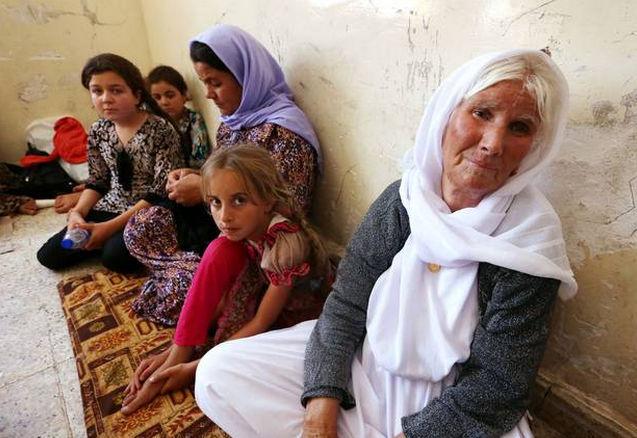 freerepublic.com
So remember when we reported on that chilling hoax concerning the Islamic State in Iraq and Syria (ISIS) when they had supposedly mandated female genital mutilation for all girls and women but then *phew* it all turned out to be a terrible dream? Well this isn't like that.
Tens of thousands of men, women, and children from Iraq's Yazidi minority have fled their town of Sinjar from Islamic State militants into the mountains where they now face an unthinkable choice—staying put to die of thirst or . . . facing execution and rape at the hands of the Islamic State fighters.
The Yazidis are a long-persecuted ethno-religious minority with a population of some 600,000 worldwide, though the majority of them live in northern Iraq—where the Islamic State (previously known as ISIS) has recently made terrifying inroads. While in reality the Yazidi religion is thought of as a blend of Zoroastrianism and Islam, the Islamic State refers to them as "devil worshippers"—and have made an exerted effort to execute them. 
As the Islamic State has continued its rampage through northern Iraq this weekend, around 200,000 people fled—some making it to Kurdish refugee camps. Others however were not as lucky, namely the 10,000 to 40,000 Yazidis who have attempted to take refuge on Mount Sinjar. 
Housam Salim, the head of the Solidarity and Brotherhood Yazidi Organization, relayed in an interview: 
"It is a humanitarian tragedy. Men were executed in the streets, women were kidnapped and raped. When we are captured, they kill us immediately, and they take our women." 
Vian Dakheel, a Yazidi member of Iraq's parliament, echoed Salim's reports, saying through tears in an impassioned speech: "As we speak there is genocide taking place against the Yezidis. Our women are being used as concubines and sold in the markets."
Meanwhile the Yazidis are trapped on a brutally hot mountain sans food or water; they've begun to live in a makeshift graveyard. Marzio Babille, the Iraq representative for the United Nations Children's Fund reports: "There are children dying on the mountain, on the roads. There is no water, there is no vegetation, they are completely cut off and surrounded by Islamic State. It's a disaster, a total disaster."
Somehow, Dakheel's report is even worse:
"Over the course of 48 hours, 30,000 families are stranded in the Sinjar Mountains with no water and food. They are dying—70 kids so far died from thirst and suffocation. Fifty old men died due to the deteriorating situation."
Oh, and the Islamic State, in case you were curious as to how depraved they are, were busy posting photographs to social media on Tuesday to mark its capture of Sinjar—including a picture of six men lying facedown with a pistol aimed at their heads. The caption read: "Kill them wherever you find them."
Amnesty International's senior crisis adviser Donatella Rovera, currently based in northern Iraq has begged for help:
"We urge the international community to provide humanitarian assistance, while the Iraqi and Kurdish authorities must spare no effort to ensure that much-needed aid is delivered to the displaced civilians and that they are protected from further ISIS attacks on the ground."
The UNICEF representative, Babille, said UN agencies have offered Iraq's government technical assistance with airdrops—though a minimum of 15 to 20 flights would be required for those trapped on the mountain to survive for even a week. "We need to get them out," he added. "If we don't, it would be catastrophic."