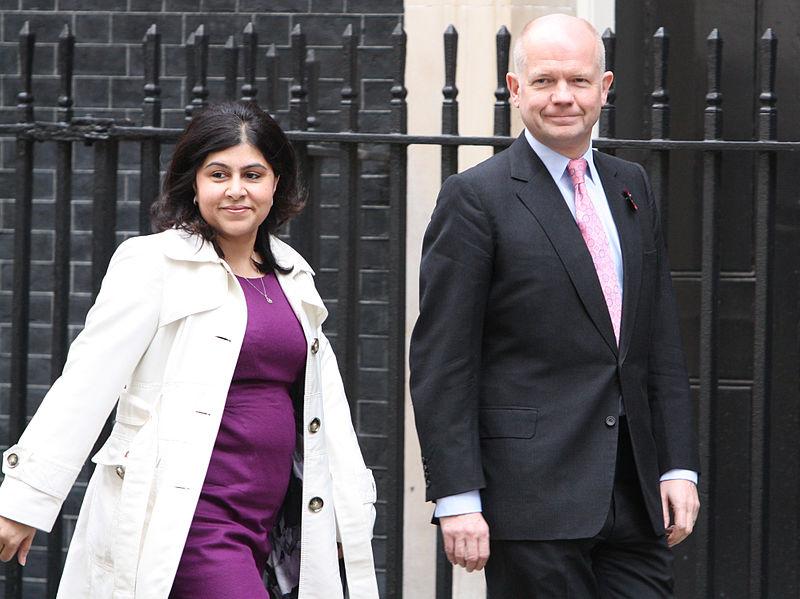 Baroness Warsi with William Hague, Leader of the House of Commons (Credit: Wikimedia Commons)
One need only look at the Oval Office to see that when it comes to politics, we've got a bit of a gender discrepancy. In this weekly roundup, we focus on powerful political women in the news who are helping to break the proverbial glass ceiling of policy-making around the world. Politicos, move aside. We bring you . . . politicas. For more on female politicians to watch, click here.
Sayeeda Warsi
The good news: Sayeeda Warsi, aka "The Baroness Warsi," is a rarity in politics—a groundbreaking presence with the courage to stand up for what she believes, backlash be damned. The working-class daughter of Pakistani immigrants, Warsi was the first Muslim woman to serve in the British Cabinet, where she was a senior minister of state for foreign and commonwealth affairs and minister for faith and communities.
The bad news: She's just resigned from her post.
Warsi quit in large part because of a sharp disagreement with prime minister David Cameron over the Israeli-Palestinian conflict, specifically taking aim at his failure to condemn Israeli bombings in Gaza. And, lo and behold, many dismissed the validity of her opinion because of her Muslim faith, a bias Warsi explicitly acknowledges:
When I have views on the economy, I'm a Tory, on the NHS I'm a Tory, but on foreign policy it's because I'm Muslim!
While some have questioned Warsi's decision to leave—noting that her opposing voice was important in the Cabinet—you have to respect her brazen exit, which pulled no punches in making her disagreement known. Like the modern politician she is, she went out with a tweet, stating:
With deep regret I have this morning written to the Prime Minister & tendered my resignation. I can no longer support Govt policy on #Gaza
The bad news: Warsi's voice will no longer have a place in the upper echelons of government. The silver-lining news: We doubt this is the last we'll be hearing from her.
Park Geun-hye and Park Young-sun
Who-knew political fact of the day: In South Korea, both the president and the head of the opposition party—effectively the two most prominent politicians in the country—are women named Park. Not only is President Park Geun-hye of the ruling Saenuri party a woman, but the freshly appointed head of the opposing New Politics Alliance for Democracy party—recently trumped in a by-election—is also a woman, Park Young-sun.
The two politicians are effectively leading a battle to determine the future of the country, with President Park Geun-hye pressuring the opposing party to cooperate with her administration's policies, and Park Young-sun pushing back. In other words, it's bitter, hard-fought politics as usual . . . just with two women at the helm. That's what they call progress.
Hillary Clinton
Meanwhile, in Hillary-world, the big news is comments she's made about sexism in Glamour magazine:
I have generally not responded if it's about me. And I have responded if it's about somebody else, because if women in general are being degraded, are being dismissed, then I can respond in a way that demonstrates I'm not taking it personally but I'm really serious about rejecting that kind of behavior. Now, sometimes when it is about me...you have to not just remain silent but try to figure out a proper response—again, though, not going to the place of anger and feeling sorry for yourself, because that kind of plays into the hands of the sexists.
A perhaps overly diplomatic response? Yes. But Clinton also didn't back down from her stance, even sharing an anecdote about taking the law school admission test at Harvard, and dealing with men telling her she shouldn't be there. Her advice?
I think we're in a much better place than we were, but we still have to stand up for ourselves, and stand up for each other. Women standing up for each other is critically important.
Considering that all-for-one and one-for-all approach is exactly what helps open doors for women like Sayeeda Warsi, Park Geun-hye and Park Young-sun, we're keen to agree.