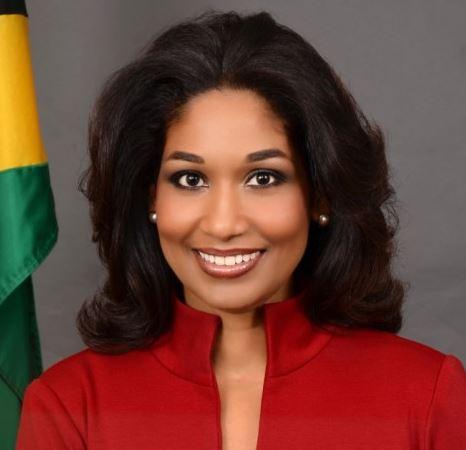 Lisa Hanna, fully clothed and ready to govern (Credit: mfaft.gov.jm)
One need only look at the Oval Office to see that when it comes to politics, we've got a bit of a gender discrepancy. In this weekly roundup, we focus on powerful political women in the news who are helping to break the proverbial glass ceiling of policy-making around the world. Politicos, move aside. We bring you . . . politicas. For more on female politicians to watch, click here.
Lisa Hanna
Here's some "news" for you: Hanna, Jamaica's minister for youth and culture, hit a local beach in (wait for it) a two-piece swimsuit. And she looked good in it. Cue the uproar about her lack of propriety and smear on the dignity of all women everywhere. There's really not much more to say about this "story" but to serve up your weekly reminder that women can be sexy and still govern effectively. One has nothing to do with the other.
Got it? Good. Moving on . . .
Sophie Mirabella
As former Liberal Party member of the Australian House of Representatives, Mirabella has insider knowledge about gender representation in the Aussie political sphere. And frankly, she thinks it could be a hell of a lot better.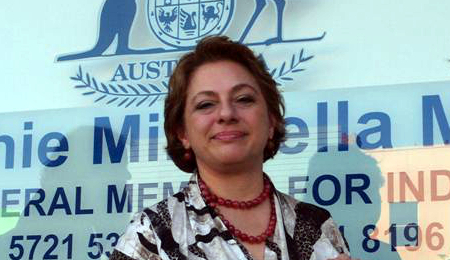 Currently a public policy fellow at the University of Melbourne, Mirabella helped draw up the so-called Melbourne Declaration, which calls for targets that women make up at least 40% of party officials, parliamentarians, ministers and shadow ministers across all political parties and government tiers. This week, she delivered the petition to Prime Minister Tony Abott and MPs with some pointed words about its necessity—including calling female participation in politics a "mainstream issue" and "electoral imperative."
She also pulled no punches when commenting on the double standard women face in regards to family:
"Often women get asked 'Who's going to look after the children?'. A young male politician gets applauded for having a family yet for a woman or an aspiring female politician it can be looked at as something of a challenge to be overcome."
Mirabella's strong voice on the issue is, in and of itself, proof that more women should govern. Those who've operated within the political system are also the most vocal about, and effective at, creating systemic change.
A "mainstream issue" indeed.
Bayan Nouri
Serving as minister for women's affairs is never an easy job. Now imagine doing it in Iraq, a country where economic inequality, female genital mutilation, and systemic domestic violence are among the pertinent items on the legislative agenda.
Fortunately, it seems Bayan Nouri—who's just been appointed to this position in the Middle Eastern country—is ready for the battles ahead. In an interview with the outlet NIQASH this week, Nouri touched on her multi-pronged strategy for moving forward, while confronting head-on some of Iraq's most pressing women's rights issues.
On women as young as nine being able to marry: "We don't support early marriage at all, especially not for girls who are only nine."
On the enforced wearing of the niqab: "I believe that women should have the freedom to wear the clothing they want without restriction."
On the rise of widows in the aftermath of war: "We do have plans for 2015 and these involve seeing a percentage of these widows employed or to have them improve their own financial situation through small business loans. We also want to provide residential units at discounted prices."
On female genital mutilation: " . . . we would certainly vote for a ban [on FGM] because of the lasting physical and psychological damage such a practice does."
Easy job? No. But as is often the case, that's also what makes it so significant.
Hillary Clinton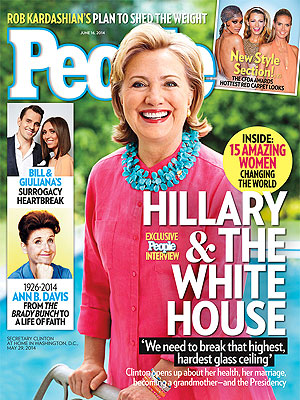 Meanwhile, in Hillary-World, the big news on Capitol Hill this week—the United States easing its policies with Cuba—has affected Hills, too. Many pundits are calling Obama's decision regarding the communist country "a gift" for Hillary because of the support it will help engender among increasingly influential Latino voters in 2016 (provided, of course, that she runs). It also validates Clinton's ideas about the country; in her book Hard Choices, she urged Obama to take the stand he's now adopted.
Hillary also made headlines this week in women's rights circles. Alongside Michael Bloomberg, her daughter Chelsea, and the United Nations Foundation President and CEO, Hillary announced six new partnerships as part of the Data2X initiative to close gender data gaps. The project has identified 28 global gaps across five domains—health, education, economic opportunities, political participation, and human security—and is working to bolster measurement tools to improve legislation.
In her speech, Hillary was upfront about the difficulties she's faced in eliciting support for the initiative:
"Foreign leaders, business executives, even senior officials in our own government. You can just see the wheels turning, like, 'Oh right, I knew she was going to raise women and girls. I will just smile, it will pass and then we'll talk about really important things.' Over and over again this was an experience I had."
In less laudatory news, Hillary faced backlash this week over her $1.5 million in midterm travel expenses. And—most importantly of all—it was revealed that her People cover was the news magazine's lowest-selling issue of the year.
Hey, you can't win 'em all.