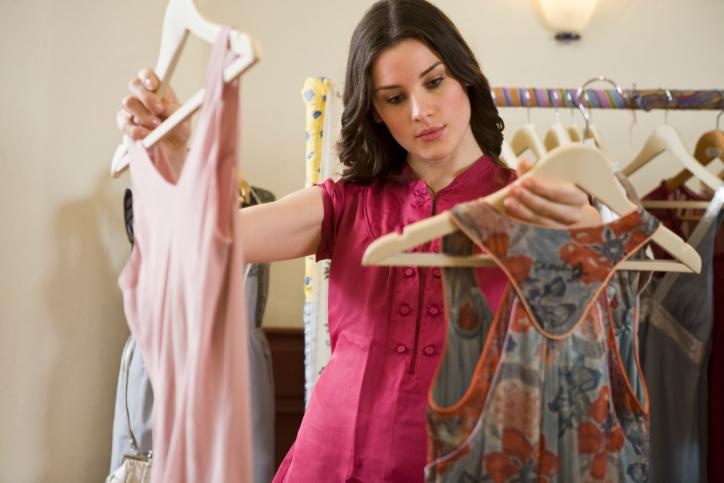 Some women are really good at cooking, crafting, or even couponing. But me, I'm an expert in designer resale shopping. Don't laugh. What's so funny about buying my favorite labels for the price of Forever 21?
A few years ago, on a whim, I walked into the Crossroads Trading Company in Silver Lake, Los Angeles, bought an Ella Moss top for under $20 and realized I could actually afford my favorite brands. My taste might exceed my budget, but I'd rather own a $300 dress that's been worn a few times for $30 than a brand new $30 dress. Since my foray into this kind of shopping, I'd say 70% of everything I've bought is designer resale.
But most designer resale stores can be overwhelming to the average shopper. It's hard to know how to look, what to buy, and what not to buy. Through trial and error and whole lot of shopping, I've developed a strategy for winning designer resale. (Yes, a strategy. Can you imagine what I could accomplish I were an expert in some sort of medical field?)
What Do You Mean By Designer?
Designer is an umbrella term. Designer resale shops used to only carry couture like Gucci and Lanvin. But now, most carry high-end brands you find at stores like Bloomingdales, Nordstrom, and Neiman Marcus. 
Know Where To Shop
Let me make one thing clear: A designer resale store is NOT a thrift shop. While thrift shops such as Salvation Army receive some designer goods, it's few and far between. Plus, Salvation Army has had a history of being particularly discriminatory against the LGBT community, which is reason enough never to give them one penny.
(The one exception to the thrift store rule is that, if you visit a smaller non-profit thrift store in an upscale area, there are usually bargains to be found, but it's not exactly the same as designer resale.)
My personal go-to store is Crossroads Trading Company, but Buffalo Exchange is very similar. Both have locations throughout the US. These chains are carefully curated and only sell clothing for the given season. Furthermore, they rarely sell anything that is more than a few seasons old, so you won't find those "it" Prada shoes from seven years ago you that wouldn't be caught dead wearing now.
There are also many great designer resale websites. The two I've personally purchased from are The Real Real, which has great sales all the time (so actually read emails they send you), and The Fashion Project, which gives a kickback to a variety of different charities (good karma and good deals). Tradsey is another great site. Check the return policies carefully before you order in case something doesn't fit, because the likelihood is there isn't another one in the next size up or down. However, when it comes to accessories, like handbags and jewelry, the World Wide Web is your designer resale oyster.
Don't Fear The Ick Factor
A lot of people are afraid of wearing previously worn clothing, but you shouldn't let that stop you from entering a store. I've found tons of items that still have the tags on them — like, brand spanking new! — such as a TSE cashmere sweater for $12. And hey, there's always drycleaning.
My Not So Secret Strategy (Part 1)
It's best to go in with a plan. For those new to designer resale, I don't think it's a great idea to shop the whole store, at least at first, so go in planning to look for one or two items you want or that might be missing from your wardrobe, like jeans or tank tops. Then, look for those specific items first. (Also, it never hurts to keep your favorite labels in mind as you shop.)
Don't attack the entire store at once; you might miss something. As patient and careful as you might be, designer resale stores may test you. Trying to tackle a whole store and looking through every rack is for advanced shoppers only. I've been doing this for years and rarely do I look through everything the store has to offer in one trip.
If there isn't something you specifically need or want, start with the "featured items." Most stores have racks specifically labeled "new," or "staff picks." At Crossroads, they have featured items on the walls. These are generally the best items the store has to offer.
My Not So Secret Strategy (Part 2)
Don't spend a lot of time looking at each item, so much as the label on it. If you know the brand, you know if you are getting something good. You could spend hours inspecting every dress or pair of pants, but don't. Go through the racks at a decent pace, looking first at the label and then at the item as a whole. This sounds difficult, but it's not. You just need to get a rhythm going.
Once You've Found An Item Of Interest, Inspect It
Remember, these clothes are used to various degrees. While the store inspects each item, every now and then, I'll see things that are stained, have pulled threads, or have a small hole. Make sure the goods you are buying aren't damaged. However, there is a small exception to this rule. If you see something that you absolutely must have, but has a rip on a seam and could easily be fixed by tailor, not only should you buy it, you should ask for 10% off. You win!
But Don't Forget…
Check out handbags and accessories no matter what. It's usually quick and doesn't require much patience or a trip to the dressing room.
Don't Walk Away Yet
I'd normally write something about not knowing someone until you've walked in their shoes, but instead I'll say, you don't know designer resale shoes until you've purchased $50 Manolo Blahniks (I still have no idea why they were so cheap). Inspect shoes to see if they are in good condition by flipping over the shoe and checking out the sole. If the sole is completely clean, it means the shoe has never been worn outside.
If you are slightly grossed out about wearing some else's shoes (it's okay of you are), you can buy anti-fungal foot spray at any drugstore.
Happy shopping!