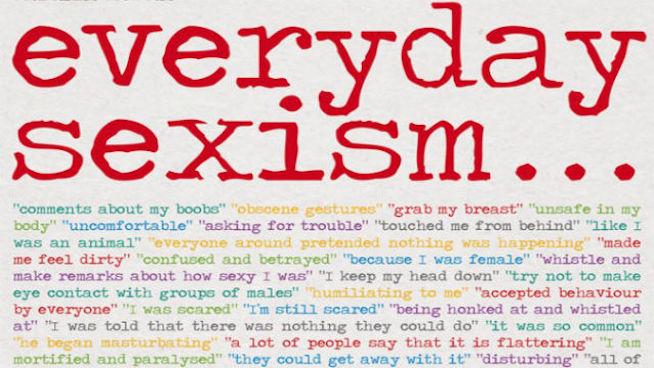 And the winner is…
Everyday Sexism, by Laura Bates!
We're onto book two for Let's Read About Feminism, our online, feminist book club, and we've got another great choice! Everyday Sexism follows our first winner, Bad Feminist, by Roxane Gay. 
Book Club Discussion: Bad Feminist, by Roxane Gay
We had another clear winner this month, with Everyday Sexism winning an amazing 50% of the vote!
In second place, we had a tie between Men Explain Things to Me, by Rebecca Solnit (which also came in second place last month) and Feminist Theory: From Margin to Center, by bell hooks. Both books will be included in voting for October's book!
Everyday Sexism began as a social media project, when the author shared her experiences with street harassment. Soon, she was getting millions of tweets and retweets from other women around the world sharing their stories of sexual harassment, discrimination, and assault. Bates shares some of these stories in the book but also offers inspiration toward a real change in the normalization of sexism in our world. 
"Often shocking, sometimes amusing and always poignant, everyday sexism is a protest against inequality and a manifesto for change." (Barnes and Noble)
"You may think you're familiar with the facts in Everyday Sexism. But nothing can prepare you for the emotional punch of hearing the stories of so many real women, from so many backgrounds, each struggling in a world that refuses to see them as fully human. Laura Bates deftly makes visible the spider web of oppression that holds us back and binds us all together." (Jaclyn Friedman, co-author of Yes Means Yes: Visions of Female Sexual Power and a World Without Rape)
We will be discussing Everyday Sexism on Saturday, September 26th! 
Join Let's Read About Feminism on facebook to stay updated and involved!
And now: Information on how you can win a free or reduced-price copy of Everyday Sexism, by Laura Bates!
Each month, Let's Read About Feminism holds a fundraiser to help provide free and reduced-price copies of our books to low-income members of our book club. This month, we will be able to provide five copies- two will be sold for five dollars each, and three will be donated for free. 
If you would like to submit your name for one of these copies, please send an e-mail to LRAFBC@gmail.com (Let's Read About Feminism Book Club)
Please include your name, whether you are submitting for the $5 book or the free book, and what format you would prefer the book to be in (e-book, audio book, or a physical copy). 
The winners will be selected at random and contacted by e-mail on September 4th, so please have your submission in by Thursday night. 
As this is a way to provide books to those who would otherwise be unable to buy them or access them from a library, PLEASE only submit your name if this is your only option for acquiring the book. We want to make sure that they go to those most in need. 
Our September fundraiser for next month's book is now open! 
If you are able, please donate a few dollars to help us continue to provide free and low-cost books to feminist readers!