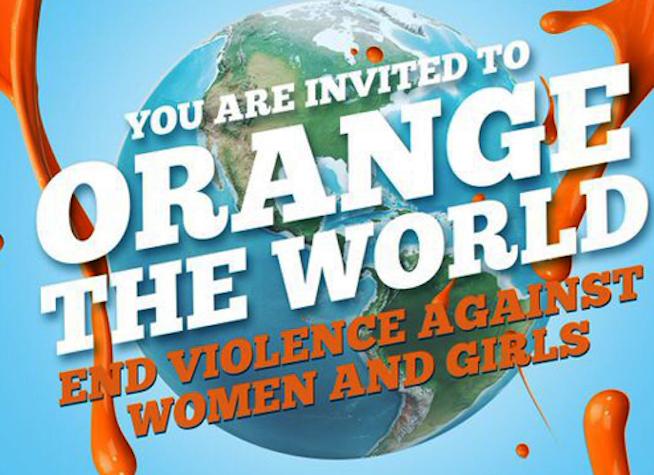 #orangetheworld and end gender-based violence.
Women continue to face brutality and harassment in all areas of life — in their homes, on the street, and via the Internet. 
November 25 is International Day for the Elimination of Violence Against Women and Girls. Using the color orange to symbolize "a brighter future without violence," 16 days of activism has been planned to bring recognition to the continued dangers facing women and girls around the world.
In 1993, the United Nations General Assembly put forth the Declaration on the Elimination of Violence against Women. Two years later at the United Nations Fourth Annual Conference on Women in Beijing, Hillary Clinton famously stated, "Human rights are women's rights and women's rights are human rights." At the time, Clinton was First Lady. Now, 20 years later, she is running for the presidency of the United States. 
However, for the majority of girls and women, daily life continues to be fraught with injustice and physical threats. The fight for change includes demanding parity for men and women at all levels of society. It is a goal that can only be attained by shifting embedded cultural attitudes and practices, as well as challenging the institutionalized hierarchies that harm girls and women. Engaging male leaders to be part of the solution for changing the system is essential.
These transformations must be put into play at all levels, from civil society to the highest echelons of government. Presently, the stats continue to expose a bleak snapshot:
70% of all human trafficking victims are girls and women, with girls comprising two-thirds of child victims.
1 in 10 girls has been subjected to a forced sexual act.
1 in 10 girls under the age of 18 has been raped.
133 million girls have endured some form of female genital cutting or mutilation (FGM) throughout 29 countries across the Middle East and Africa.
700 million women who are currently alive were married before they were 18 years old; 250 million women were married before they turned 15 years old.
Only 52 countries haves laws prohibiting marital rape.
Rates of violence increase for women based on factors of ethnicity, sexual orientation, and presence in "conflict zones."
A breakdown on the estimated number of women killed around the world (2012) shows 50% were murdered by partners or family members (such as in honor killings). 
United Nations Under-Secretary-General and Executive Director of UN Women, Phumzile Mlambo-Ngcuka has stated, "Violence against women and girls remains one of the most serious — and the most tolerated — human rights violations." She additionally noted, "Its continued presence is one of the clearest markers of societies out of balance and we are determined to change that."
Girls Not Brides is one of the groups fighting to change the fact that a girl gets married every two seconds. They have pegged their news release, "82,000 girls will become child brides while leaders discuss child marriage at the two-day African Girls' Summit," to the November 25 actions. The continent of Africa is home to high rates of child marriage, particularly Sub-Saharan Africa. Their information points out that the leading cause of death for girls forced into marriage (ages 15 to 19) is suicide. Complications from childbirth and pregnancy rank as number two. 
Across the world, individuals are meeting challenges on a hyperlocal level. Alupo Engole Cecilia, from Uganda, is one of many women who embody the face of change. A 67-year-old mother of seven children, she has seen violence firsthand. In her country, 60% of girls and women between 15 and 49 have been victims of aggression. Seventeen years ago, Cecilia became a "district counselor" in her vicinity. Due to her leadership abilities, she was tapped to take part in "peace-building trainings." Cecilia co-founded Teso Women, a local NGO, which collects stories and uses the information to document and pinpoint concerns that need to be addressed by on the ground programs. Cecilia has actively refuted the traditional premise that "women are not supposed to be outspoken."
Musimbi Kanyoro, CEO & President of Global Fund for Women, the organization that featured Cecilia in their #Determined campaign, envisions a world where gender equality, Goal Five of the 2030 Sustainable Development Goals, is finally achieved. She voiced the aspiration: "Imagine a world where every woman and girl is strong, safe, powerful, and heard. No exceptions. A world where every girl has access to education, every woman can decide if and when she marries, where women get equal pay for work and can freely run for any office. A world where girls can go to school without the fear of being kidnapped and abused, and where women and girls are not subjected to domestic violence and rape. A world where a girl's life is not pre-determined but self-determined."
We're not there yet.
Just check out the recent documentary, India's Daughter, the gut-wrenching story of the Delhi 2012 gang rape and death of a 23-year-old woman. It mobilized people in India — and beyond — to protest violence against women, along with its root causes.
Women continue to face brutality and harassment in all areas of life — in their homes, on the street, and via the Internet. 
Get involved November 25 through December 10 (Human Rights Day) and be heard. #OrangeTheWorld