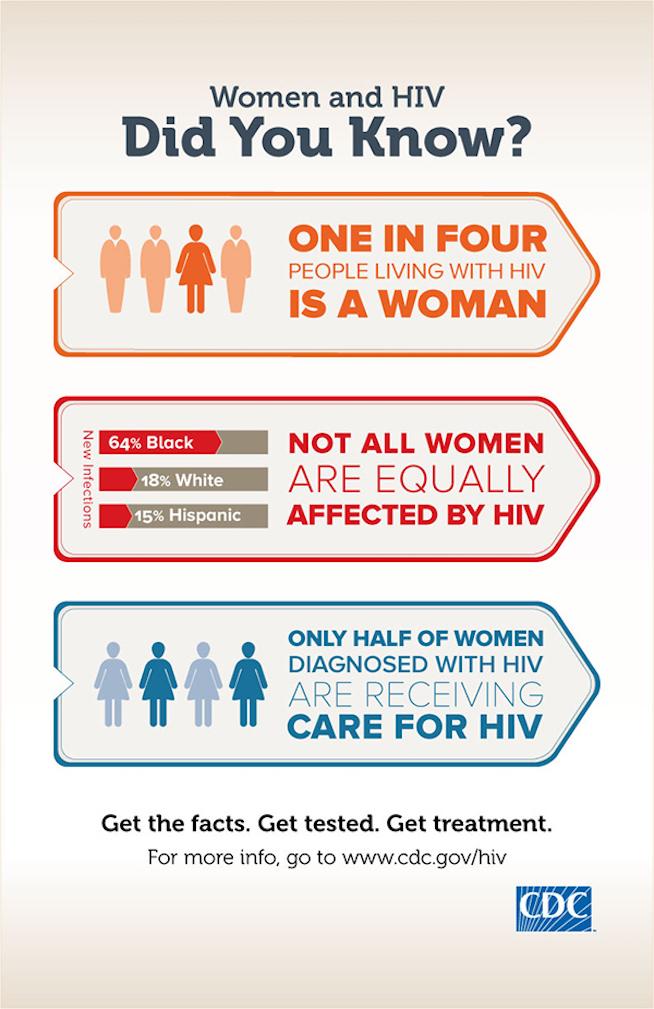 Get tested.
It is important to examine the intersection of HIV with reproductive health. Women are not receiving sufficient representation in clinical trials for medication.
In April of 2013, a Kaiser Family Foundation survey showed that 65% of American women wanted more information on HIV/AIDS topics. Concerns ranged from basic information and knowledge of how to prevent spreading the virus to testing and on the ground resources.
There is a 2013 Department of Health and Human Resources Guide to the Clinical Care of Women with HIV, but a lot remains to be done.
Aware that there was an action gap and deficit in bringing visibility to female oriented issues, 28 women living with HIV in the United States founded the Positive Women's Network (PWN) in 2008. The group included African-American women, Latina women, Native American women, Asian women, and Caucasian women. The youngest member was 21 and the oldest was 72. They represented all areas of the country, reflecting urban and rural settings.
PWN has been in the forefront of using a specifically gendered approach to tackle matters, with human rights and social justice considerations as an essential element in the equation. They have trained women with HIV for leadership roles as an integral part of their agenda. PWN realized early on that HIV-positive women needed to be embedded in, and empowered by, policy solutions. In working to assure quality of life standards for women with HIV, the organization is clear about contextualizing "larger structural injustices" that have a bearing on specific communities vulnerable to HIV. Economics, class, and race are primary factors, as they frequently determine access to health care, jobs, and housing. So is societal marginalization — particularly for LGBTQ people, sex workers, and women in prison. (Undercollected figures on how trans women are impacted is a major problem.)
The Center for Disease Control (CDC) has a National HIV Surveillance System that "collects, analyzes, and disseminates information about new and existing cases of HIV infection (including AIDS)." It reported that in 2006 there were 300,000 women living with HIV in the United States. In 2013, women and girls over 13 comprised 20 percent of the estimated new diagnoses. It related that 80% of women with HIV were women of color — of the 87% of all women who were infected, the cause was attributed to heterosexual contact and 60% of those newly diagnosed were between the ages of 13 and 39. 
The data shows that African-American women are the second largest group with the highest rate of HIV infection, while also being the highest among all women (19 times that of white women, approximately four times that of Hispanic/Latina women). Compounding the situation is the factor that when a specific community has a larger number of people living with HIV, their risk of becoming infected grows with each new sexual encounter.
Women are impacted in very different ways than their male counterparts. The virus has an effect on their roles as mothers and caretakers, and the 75% of women with HIV in the United States have at least one child under 18 in their household.
It is important to examine the intersection of HIV with reproductive health. Women are not receiving sufficient representation in clinical trials for medication. They can't be treated according to the same criteria as men, especially because menstruation and menopause are essential to specific studies. 
A core problem comes with the stigmatization around the disease for all demographic groups. 
There are ways to construct new protocols and attitudes. All pregnant women should be screened, as HIV can be transmitted from mother to baby — in utero, during labor, or through breastfeeding. Medical exams should include routine HIV testing. As early as 2006, the CDC called for all people between 13 and 64 to be tested.
Women, outside the parameters of what may be considered "high risk groups," are not getting the attention that they need at the earliest possible time. This has resulted in missed opportunities for treatment. Older women who are widowed or divorced are less aware of the need to use protection during intercourse, specifically as thinning vaginal tissue makes them more susceptible.
Young women need "evidence-based" information to understand why unprotected sex is not a good choice — whether for vaginal or anal sex. When women ask partners to use condoms, they may suffer physical abuse. This creates a link between intimate partner violence and HIV.
Women need control over their sexuality, particularly as partners may not be monogamous or willing to use condoms. In 2009, the FDA approved the FC2 female condom. There are ongoing studies into the efficacy of a microbicide gel, as well as PrEP — a "pre-exposure prophylaxis."
Learning of an HIV-positive diagnosis is only the beginning of the journey to wellness. Care must be received and medication dispensed and taken in order to achieve suppression of the virus. 
Executive Director of Positive Women's Network, Naina Khanna, sent me her thoughts by email about the risks women face. She wrote, "I personally was missed for testing a couple of times. Even when I requested an HIV test, I was told I 'was not at risk' because of my responses to the risk assessment questions. We commonly find this happens to women, and the number of new diagnoses among older women is particularly concerning." 
Khanna also had specific advice for women living with HIV. "Reach out and find other sisters with a similar experience. You are not alone, and you can still achieve all of your dreams. Find support and take care of your health." 
After over 30 years of an American AIDS epidemic, it's time for all women to receive the support they need in order to achieve agency in dealing with HIV.