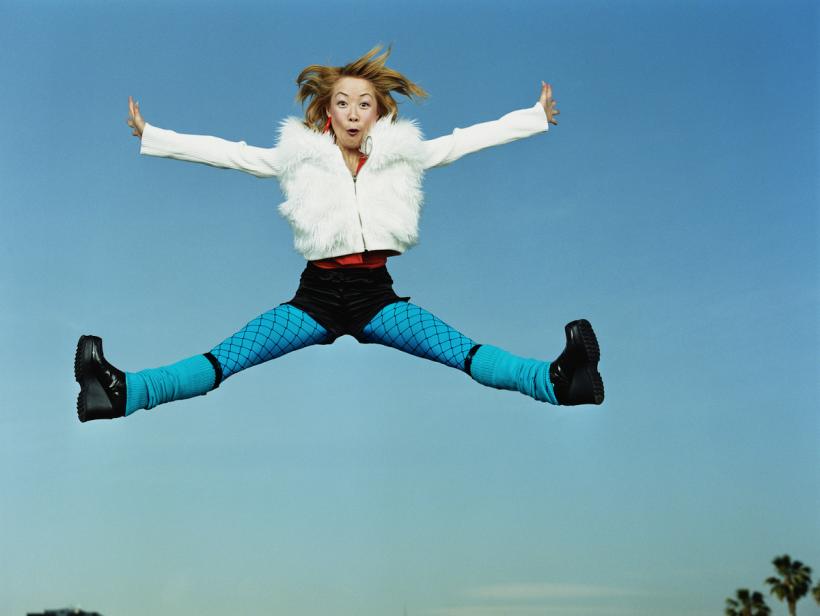 Masturbation is the ultimate act of self-care.
Screw manicures and blowouts: masturbation is the ultimate act of self-care. 
It's good for your health, and you should be doing it all the time. And chances are, if you're a woman, you haven't been masturbating nearly enough lately. You might think I'm crazy — but you need to get in touch with yourself before you can get in touch with anyone else.
Before spicing up your relationship, worry about spicing up your self-love. Here are some incredible masturbation positions you never even knew you needed.
The wall bend.
Why it works: Sex against the wall can be hot, but it's pretty complicated. Meanwhile, masturbating against the wall is just plain sexy. No height difference to consider = no problem. Plus, blood rushes to your genitals while standing and this makes for better orgasms.
How to do it: Stand facing the wall. Spread your legs slightly and lean forward against the wall, forming an "L" shape and using one hand for balance. Use your other hand to reach between your gams. 
What you'll need: Bullet vibrator or fingers.
All four-for-one and one-for-all.
Why it works: This solo take on doggy style is very effective for orgasm. The flexibility of this position allows different angles of your clitoris to be reached at different pressures. Changing it up in the thick of things can help you have a more intense orgasm.
How to do it: Perch on all fours, using one hand for balance and the other for utilization. Being on all fours gives you the ability to curl your back into cat position or stretch your back into cow position. 
What you'll need: Finger Vibe or G-spot vibrator
The chair-riding cowgirl.
Why it works: This one is just like the cowgirl with a partner, only better because you only have to worry about yourself and aren't required to do any leg-burning bobbing. As we all know, grinding your clit against anything, (wo)man or machine, is going to feel great. 
How to do it: Take a pillow and prop it against the back of a chair. Place your vibrator against the pillow. Straddle the chair, and grind. You can also use a rabbit-style vibe and sit on it directly, just like a penis. This way you're getting G-spot and clitoral stimulation, simultaneously. Try both to see which you prefer. 
What you'll need: G-spot stimulating vibrator or The Rabbit/Ohmibod Lovelife Snuggle.
The solo spoon.
Why it works: The thing that makes the classic spoon position so lovely is the intimacy (and clitoral access) you have with your partner while you do it. But guess what? You're a strong-ass woman and don't need a partner to create intimacy. You can make that all by yourself. Who needs a partner when you have a vibrator?
How to do it: Be your own big spoon. Lie on your side and put your vibe between your legs. You can either go hands-free and just rock gently against it or use your hand to guide the vibe. It's really about how much clitoral pressure you prefer. This lazy-girl masturbation move goes hand in hand with your favorite RedTube flick, or not — whatever you want. This is your moment. 
What you'll need: G-spot stimulating vibrator or a Hitachi Magic Wand (aka the hand of God).
Pillow prop
Why it works: Being on your back is the OG position for a reason: you can have your legs spread to the high heavens, get right on the clit, and get you off without a hitch (and minimal effort). Take it to the next level by bringing in a pillow for even easier access to your clit.
How to do it: Take a pillow, stick it under your butt, and lay back. Spread your legs. Boom.
What you'll need: A bullet vibe or fingers.