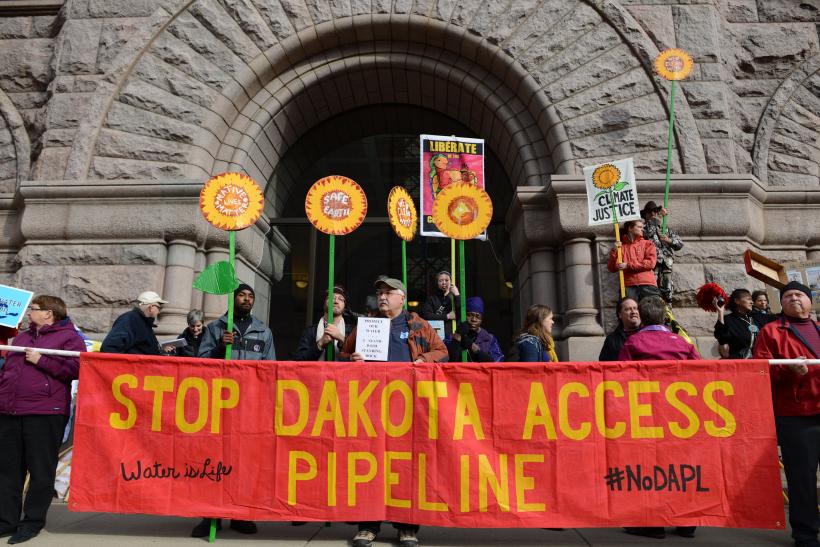 March has been a pretty stellar month for The Resistance, actually. (Image Credit: Flickr/Fibonacci Blue)
In the U.S., we are living in frightening times. Our current president (at least for now) ran on a campaign of blatant racism, misogyny, Islamophobia, anti-Semitism, anti-queer, anti-trans, anti-logic, anti-fact, and anti-science rhetoric. He has installed white supremacists along with his kids into the highest levels of government. Over twenty million people narrowly missed losing their healthcare, partly because ultra-conservative Republicans were concerned that not ENOUGH non-rich people would die under the current Republican plan.  
The resistance is alive and well and to pay tribute to those working hard to fight fascism, we're going to do a monthly roundup of activism victories. If you have a victory you'd like reported in this monthly column, feel free to email Ragen at danceswithfat dot org.
Failure of the ACA Repeal.
Thanks to townhalls (even when candidates were just empty suits) as well as a cavalcade of phone calls, postcards, and faxes (including by using this nifty app to turn texts into faxes), and lobbying from groups like the American Disabled for Attendant Programs Today (ADAPT) and the American Association of Retired Persons (AARP), a number of moderate Republicans came out against the disastrous Republican Insurance Plan (RIP). Still, Trump insisted on a rushed vote so that he didn't miss his tee time at Mar-A Lago. So he ran around threatening legislators, and finally issued an ultimatum that if the RIP didn't pass he would simply leave Obamacare in place. Showing how much power he did not have, Republican leadership was forced to pull the bill on Friday rather than face an embarrassing and demoralizing defeat and, at least for now, 26 million Americans get to keep their insurance.
NYC Trans Kids Get Some Respect.
Thanks to the work of Trans and Non Binary folks and their allies, in response to Trump revoking Federal protections for trans students, the New York City Education Department issued a memo affirming the basic right of trans and gender-nonconforming kids to be called by the correct pronoun:
"It is important to note that for students who are gender-nonconforming or who do not prescribe to the gender binary, they may prefer gender-neutral pronouns such as 'they,' 'ze,' or other pronouns," the memo states. It also includes information about how to protect transgender and gender-nonconforming kids from bullying.
Damn right it is.
ING Says #noDAPL.
In another vein of the sustained activism led by the Standing Rock Sioux Tribe and other Native folks, NoDAPL has asked that people boycott the banks involved in funding the pipeline. They gained a massive victory when ING announced that it has sold its part of the Dakota Access Pipeline Loan. The city of Seattle is voting to see if they will become the first city in the country to stop utilizing any bank that is funding the pipeline. You can follow the progress and get involved in action items.
Lady Mags Throw Down Against Ivanka Trump Power Grab.
After claiming that reports alleging that he was going to give his kids top security clearance were "fake news," Trump gave Ivanka a West Wing office and she has applied for top security clearance, but is under absolutely no oversight or ethics requirements. 
Cosmo pulled out all the stops and broke down exactly why this homage to nepotism and ethics violations is an affront to working women and Teen Vogue put out a killer piece specifically about the ethics issues.
Fast Food CEO Steps Back.                
Andrew Pudzer is a fast food executive who is known for exploiting workers and railing against paying them living wages, who said about replacing humans with automation, "They're always polite, they always upsell, they never take a vacation, they never show up late, there's never a slip-and-fall, or an age, sex or race discrimination case." He also said this about their exploitative ad campaigns: "We believe in putting hot models in our commercials because ugly ones don't sell burgers." What a charmer, eh? So, of course, Trump tried to appoint him as labor secretary. In response to pressure from activists that caused even Republicans to back away from him, he withdrew his own name — maybe his old company can replace him with a robot.
Donald's Second Attempt at Islamophobia is Foiled by a Federal Judge.
After the courts shut down Trump's first attempt at enacting Islamophobia (but not against countries with which he does business) through Executive Order, he took a second try. Swing and a miss. Strike two as U.S. District Judge Derrick K. Watson froze the order by issuing an emergency stop citing "questionable evidence supporting the government's national security motivation."
Rallying Around Women's Hockey.
Sick of getting less pay, benefits, and support than the men's team from USA Hockey, the women of USA hockey decided to boycott their world championship. USA hockey responded by threatening to get replacement players — but they soon found themselves talking to youth teams because the adult women players weren't willing to participate in oppression. Then the men's hockey team threatened to boycott in solidarity. Next, 14 U.S. Senators added their support. Now USA hockey is having an emergency meeting where they are expected to vote for wage increases and improved benefits.
Donald's Anti-Reading Policy Bites Him in the PR.
Ok, so this one isn't exactly an activist victory, but it makes me really happy that the White House signal boosted an article that was hyper-critical of its budget because… wait for it… they only read the title.