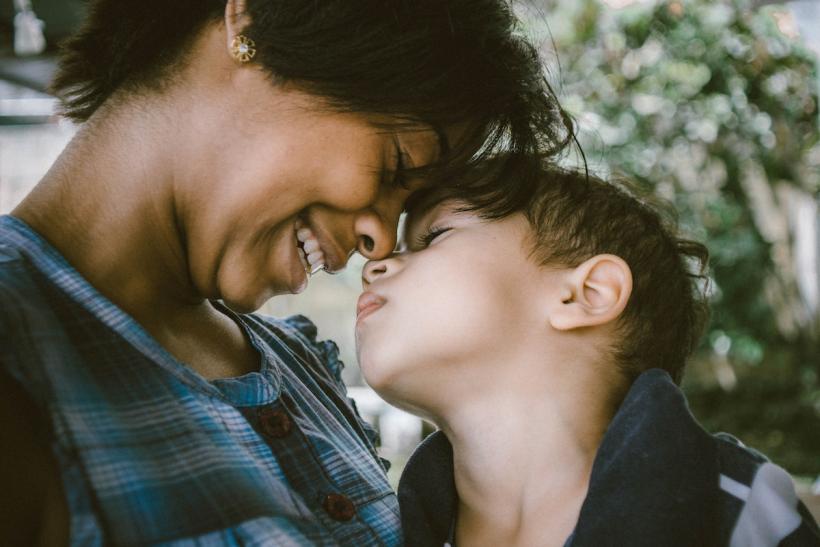 Image credit: Bruno Nascimento via Unsplash
It's Friday night. After a long day of juggling multiple at-home jobs and literally chasing my hyperactive daughter from room to room (and occasionally bribing her with a cookie in exchange for some peace), I finally have a few moments to just sit with her and enjoy some of her favorite shows. As we watch Suzy Diaz of Stuck in the Middle candidly bemoan certain aspects of homemaking and raising her family — even going as far as to boast about her proclivity to blow off finishing the laundry — my first thought is, Wow... this is a first.
At that moment I try to recall the last example I saw of a fictional mother of color being given space to make questionable decisions, center their own needs, and sometimes struggle to keep up with their demanding roles. After a while, I come up short.
Unlike their partners, television fathers — like Home Improvement's Tim "The Toolman" Taylor, Black-ish's Andre Johnson, or Homer Simpson of The Simpsons — have been allowed to frolic in mild, likable ineptitude for over half a century. But that same adventurous courtesy hasn't been extended to mothers until pretty recently, in comparison. When we are fortunate enough to see a flawed, boldly human mother, she is typically white — think Roseanne's moderately crass titular character or the neurotically controlling Claire Dunphy of Modern Family. Though both deal with their share of unfair treatment, their privilege allows them to be brazen and overbearing in a way that is embraced without the threat of being ostracized. Watching these shows as a black mother made me question where similar options were for mothers of color.
Surprisingly, I found them on the Disney Channel, a channel that has been criticized for their cookie-cutter portrayals of family life.
Stuck in the Middle chronicles the chaos of a family of nine from the perspective of the middle child, Harley Diaz. Her mother, Suzy, is a fun, welcome departure from the Spicy Latina trope, and a comforting reminder that managing a family shouldn't require completely undermining your own wellbeing. In fact, we first meet Suzy within the first minute of the pilot, where Harley finds her hiding in the pantry, disheveled from sleep and silently enjoying her morning coffee. Rather than react to being discovered with shame, she demands another two minutes of peace. "Close the door before the other kids see and start bugging me," she directs bluntly.
So much of motherhood, from an outside perspective, is tied to a sort of performance in a way that fatherhood is not. It isn't enough for us to simply provide the best care for our families; we must do so in a way that exudes absolute gratefulness and cheer. While I adore being a mother, there are days when I'm thoroughly exhausted and just want my space. Watching Suzy claim that for herself without pudency is a liberating sight.
Mothers of color rarely have occasion to be selfish, in entertainment or otherwise.
In K.C. Undercover, Kira Cooper functions not only as a doting mother and wife but also as the matriarch of a family of spies. When the "Spy of the Year Awards" approaches, Kira learns that she will be directly competing with her daughter, K.C., for one of the most prestigious honors in their field. While Kira is certainly proud of K.C., the idea of possibly losing to her daughter "after 20 years of being overlooked" makes Kira visibly unhappy. "Try not to be a sore loser," she warns crossly after K.C. refuses to decline her nomination. Though the episode ends with Kira apologizing for her competitive attitude — which she promptly forgets in a braggadocious acceptance speech following her win — her ambition still serves as an inspiration to those of us who have been judged for choosing to also care about our careers. 
Kira's passion as both a mother and a spy provides an escape from a reality where pervasive anti-blackness makes black motherhood a constant target of criticism. Generally speaking, black women are often painted as the nurturers in our relationships, whether the connection is platonic, romantic, or familial. When black mothers in particular prioritize their careers, it can be seen as an affront to what are deemed our maternal responsibilities. In the real world, Kira might be scrutinized for centering her life as a spy. In her own fictional space, it is celebrated and supported in a rebellious way.
Andi Mack, in one of Disney Channel's most subversive shows to date, features teen pregnancy in a non-preachy fashion, following the story of an Asian-American teenage girl, Andi, who discovers that her older sister, Bex, is actually her biological mother. Andi is consistently caught in between two conflicting schools of childrearing: the overprotective nature of Celia, the grandmother who raised her, and Bex's lax, free-spirited approach to parenting and life.
Both Bex and Celia can be fairly charged with overcompensating in their parenting styles, attempting to make up for years of deceit. Celia continues to shelter Andi as a means of protecting her while Bex maintains a sisterly relationship as a source of comfort during an incredibly confusing transition. Both Celia and Bex often fail to actually listen to what the teenager wants and tend to corner her into picking sides. Even though it's clear that they operate with Andi's well-being in mind, they sometimes allow their personal interests to trump objectivity, which can result in more secrets and further erasure of Andi's feelings. It can be difficult to watch, but it also captures the internal conflict that often pits what we want for our children and what we want for ourselves against each other. While you may feel for Andi's predicament, it's also very possible to empathize with Celia and Bex, who simply want to protect her.
In a time where we are still clamoring for better Asian-American visibility within entertainment, Andi Mack marks the first ever Asian-American led sitcom on the Disney Channel.
Whether or not the show decides to explore the possible intersection of Asian-American identity and motherhood remains to be seen. Still, including more Asian-American women in the conversation is not only necessary but also frustratingly overdue.
Disney's other entities, Freeform and ABC, are also contributing to the inclusion of imperfect mothers of color. With Switched at Birth's Regina Vasquez, Black-ish's Rainbow Johnson, and Fresh Off the Boat's Jessica Huang, the company is widening the scope of what motherhood looks and acts like.
These great efforts do come with their own amount of working privilege, though.
The light skin, heteronormative marital status — sans Regina Vasquez, who is a widow — and comfortable economic standing of all the mothers mentioned allow for their experiences to be widely deemed palatable. I continue to wait for a multitude of options that include dark-skinned, working class mothers navigating their roles without marks of tragedy. Extra points if they can be single mothers who don't inexplicably require saving, as they are often portrayed in films like Good Deeds. Furthermore, as long as the Disney Channel continues to predominantly center light-skinned women of color and air shows like Bunk'd, which heavily perpetuates racially motivated tropes like the Sassy Black Girl and the Asian Model Minority, it still has a long way to go before it fully mends its relationship with race.
We can, however, credit the Disney Channel for offering its young audience — and their parents alike — a broader picture of what motherhood actually looks like without constantly relying on the default of whiteness. Representation matters so much to those of us who simply wish to be included and understood within the mediums we love.