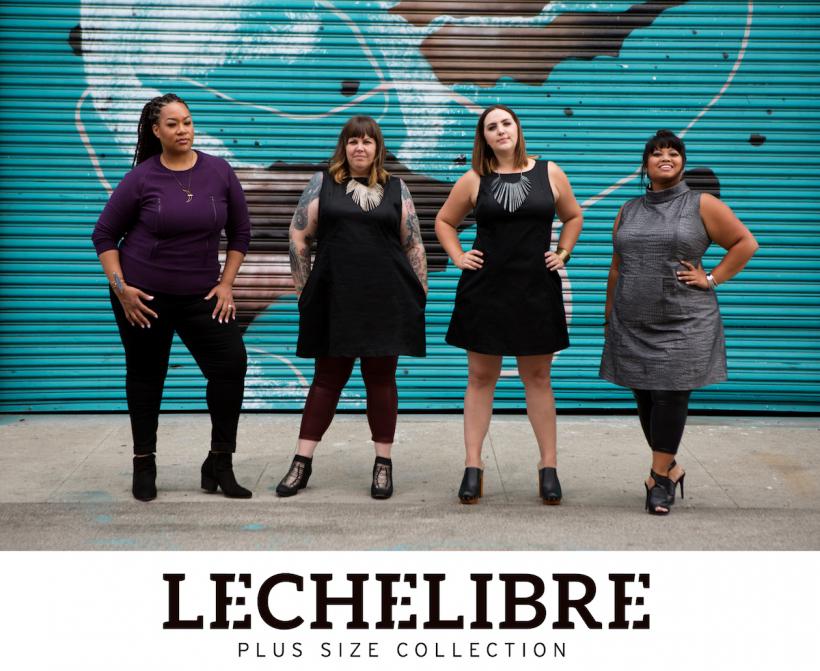 Image courtesy of Leche Libre
"I loved being a mom, but I felt like I had disappeared as a person," Leche Libre founder Andrea Newberry says on the first thing that inspired her body positive Mad Max-meets-nursing Mom clothing line. 
Available fashions at the time didn't speak to her personal style, and not looking like herself as well as the trials of being a new mother dragged her spirits down. Newberry bought a secondhand sewing machine, taught herself how to sew, and began designing her own funky breastfeeding outfits. She has since launched her own business, and her first Leche Libre Kickstarter more than doubled its initial 20K goal. Now, Newberry is bringing more body positivity in the fold of her brand with the world's first ever plus-size line of edgy breastfeeding gear. 
While she didn't set out to be a trailblazing fashion designer in the post-maternity world, Newberry does have a creative work history — before motherhood, she worked as an art restorer for a Chicago firm and her eye for detail is evident in her designs. "I didn't have a fashion background, just a problem I wanted to solve," Newberry tells me. And solve it she has.  
Sleek lines, bold colors, and a versatile fit, the Leche Libre collection looks like it was designed by Furiosa, for moms who need to feed their babies while simultaneously kicking butt. 
The dresses and tops contain hidden pockets for extra functionality as well as discreet zips down the bust for easy access. This is discreet anti-authoritarianism at its best, and Leche Libre's new plus-size collection only expands on the fabulous.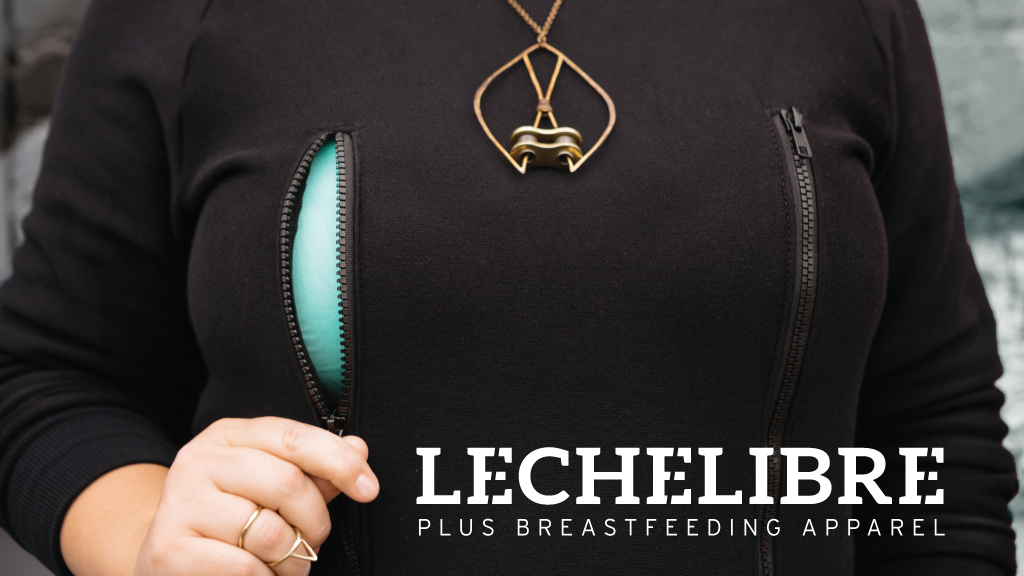 "I've wanted to do plus sizes ever since launching Leche Libre. As a brand which aims to empower women, I have always felt that it is so important to be inclusive of ALL women and that means having a wide range of sizes," Newberry says. "I teamed up with size-inclusive stylist Kat Eves and technical designer Casey Sunich, and together we worked to adjust the patterns so that styles would have a comfortable and stylish fit for plus size mamas. We fit-tested up to size 26 on multiple different body types to make sure the patterns would size up correctly. We wanted to dot the I-s and cross the T-s so that when women get their gear, they will feel confident and powerful."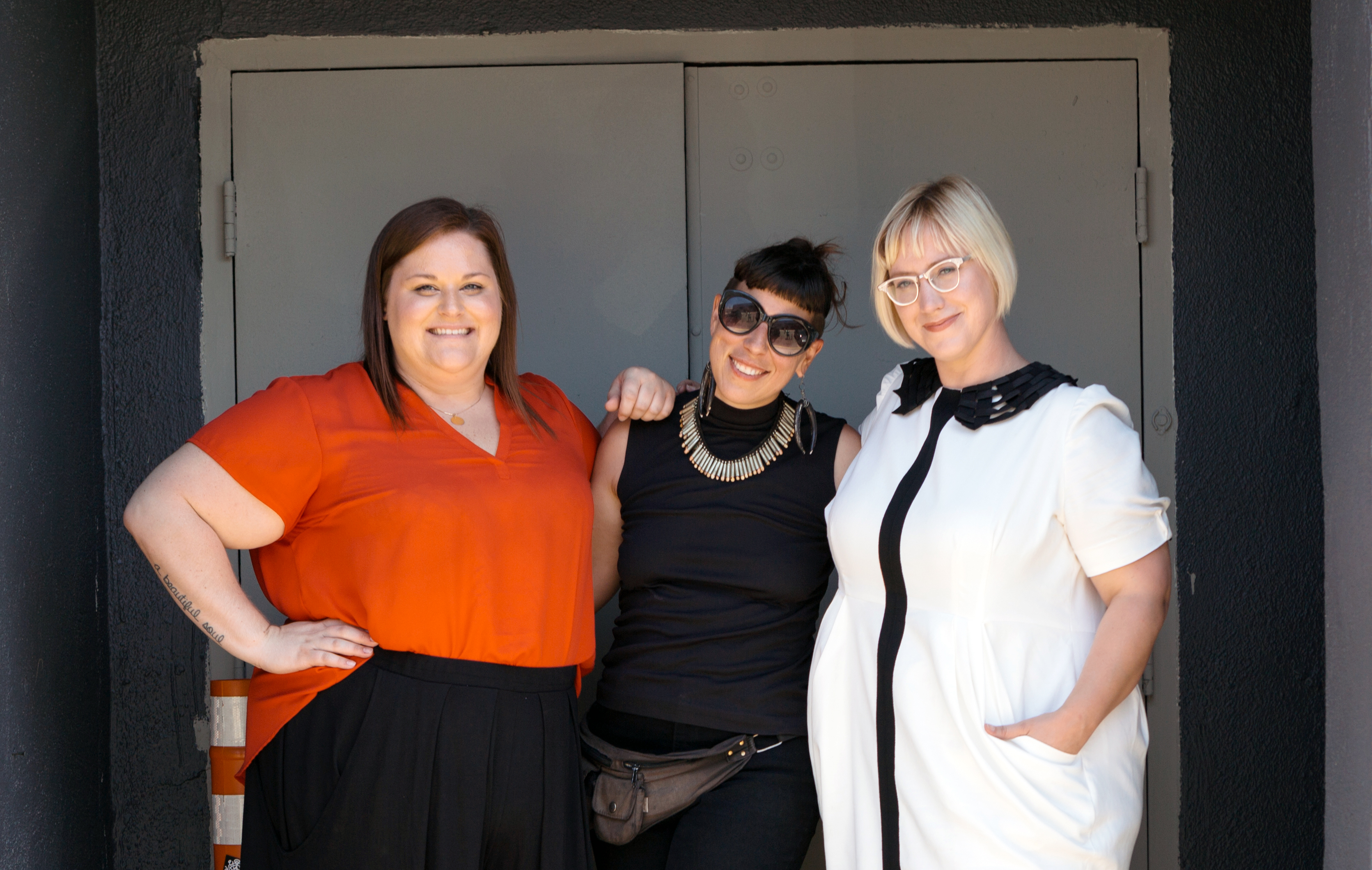 Body positivity is a cornerstone of the Leche Libre brand, and so is inclusivity and diversity. 
Newberry digs deeper, "There is a lot of shame created around mothers and breastfeeding, including body shame. Women's and fitness media still sell this idea that we're supposed to 'bounce back' to our pre-baby weight and celebrate the women who do. We're supposed to breastfeed behind closed doors or somewhere private, regardless of when and where our baby feels hungry. It's all ridiculous. Breastfeeding in public is one of the most empowering, body positive things you can witness, and doing so while plus size means that much more. It says I own my life-giving body and celebrate its ability to nourish a new life. I know when most people think of the term body positivity in fashion, they think in size inclusivity and #honormycurves which of course is so important. For Leche Libre, I define body positivity by creating fashion which allows moms the ability to own and celebrate their bodies through fierce functional fashion."
For Newberry, Leche Libre isn't just fashion; it's also activism:
"Plus size women, who already face so much body shaming from our culture, face double the stigma when breastfeeding in public. I really feel this collection to be the culmination of my mission to empower women, and I'm so proud and excited to be getting it out there. I want Leche Libre and this collection to speak to plus size mamas and tell them they are powerful, and they deserve to celebrate the power and beauty of their life giving bodies with something that truly works for them."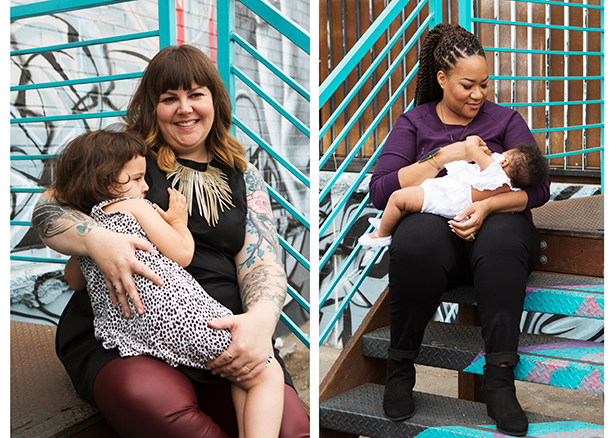 And part of being an activist brand is making sure that all the materials are ethically sourced and made right here in the USA. Newberry tells me that she works with local providers from Chicago to Milwaukee — all of whom are women — and she's on a first-name basis with every woman who puts together her designs. 
"As a brand which works to empower women, I want to do everything I can to empower women on both sides of the transaction. This is a mission of passion for me, and nothing is more important to me than my integrity. I work hard to make sure that everyone wins in my business deals so that when you get a dress from me, you can feel good as a woman, a mom, and a consumer," Newberry stresses. 
This was also the drive behind not only featuring plus-sizes but diverse plus-size bodies as well. 
"In terms of race and ethnicity, I feel it's important to show women of color, especially black women breastfeeding, because they face extra hurdles for successful breastfeeding. It is important to increase the visibility of powerful women of color breastfeeding and looking awesome."
At the moment, Newberry is smack dab in the middle of her second Kickstarter campaign and already halfway to her goal. Her passion for this collection, as well as being an advocate for breastfeeding moms everywhere, is palpable. When asked how she approached designing this collection as a non-plus-sized woman, Newberry found new inspiration for her activist brand:
"It's been so eye opening doing this collection. As a feminist, I've always been aware that body shaming is an issue for women. However, so many of the daily nuances go over my head. Preparing for the photo shoot, it wasn't as easy to get certain items and required more effort to do the styling, and it really hit home how much more effort plus size women have to put into the selection of their clothing. But really the thing which has been the most impactful to me is bringing to light how much fat phobia exists in our culture especially in the birth and postpartum world where women are constantly being told to "bounce back" to their pre baby body. Plus size women experience very real prejudice and face double the stigma to not reveal any of their body while breastfeeding. It makes my blood boil that these women are treated with such disrespect."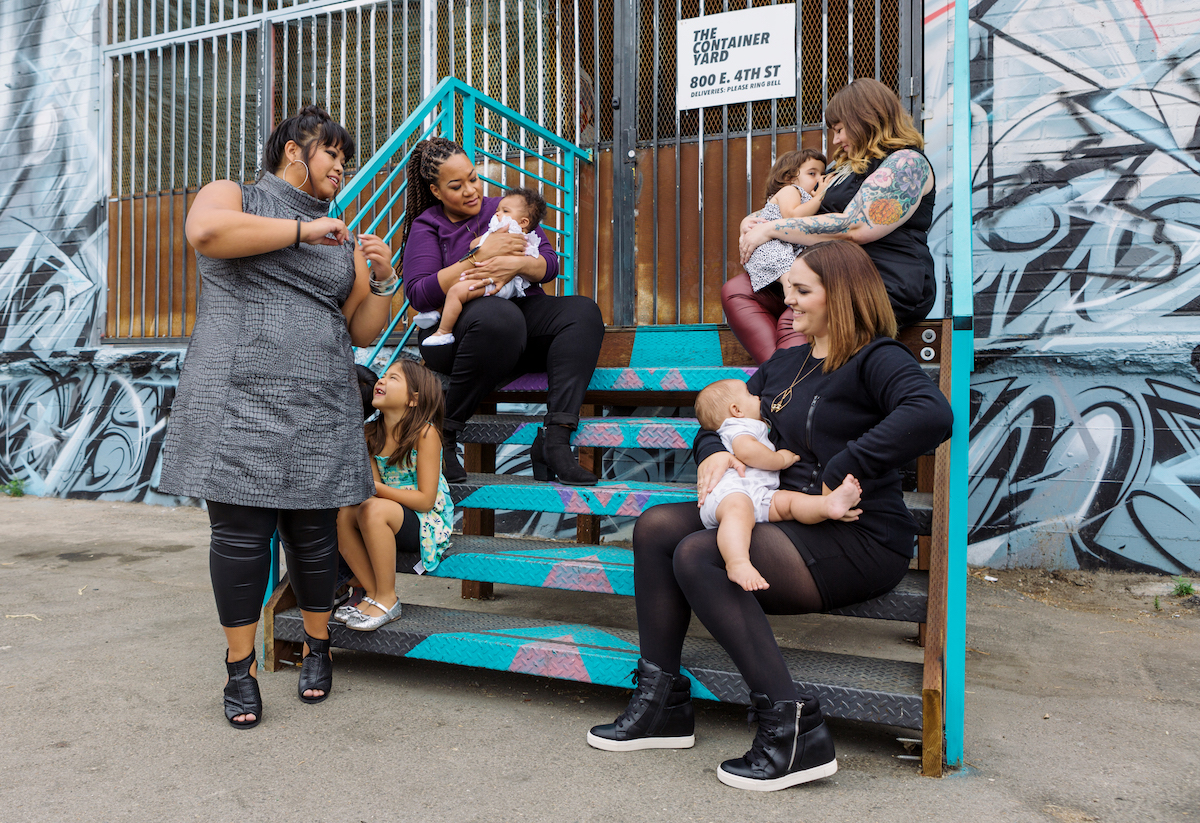 "Plus size women so often tell me how people are always making the assumption that they are lazy, and somehow deserve poorer treatment as a result. It takes a lot of strength to be pregnant and to give birth. I am in absolute awe of these amazing women who despite dealing with the bullshit sundae of body shaming, defiantly own their curves and show such confidence. This collection has brought so many amazing women into my life I wouldn't have met otherwise, and I'm so grateful to them. I've learned so much, not just about what it's like to be a plus size woman, but how to be a confident woman who loves yourself from the inside out."  
Newberry is here to support all the rebel mamas out there who don't fit the mold of what society expects of them. 
"When I was younger, I felt like all the cultural messages were that my value came from what I looked like, so I was like FUCK THAT! I didn't wear makeup, I had hairy legs and armpits (well, I still have those) and I didn't really give a shit how I looked. But then as I got older and especially after I had kids, I got the opposite messaging, that it didn't matter so much what I looked like anymore because I was past my prime," she says. 
"I got really hard edged with my look to push back on these rules about moms being soft and self-sacrificing. I'm going to be a mom with a half-shaved head and huge earrings that look like bird claws. You can't miss me."
And you can't miss Leche Libre's striking fashions either as well as the marvelous ways this company and its founder are empowering women to #FreeTheNipple. This is fashion for a more equitable future generation of mothers. 
Check out their website for available designs, contribute to their current Kickstarter plus-sizes project, and follow Leche Libre on Facebook and Instagram.
*All images couretsy of Leche Libre.
---
You Might Also Like: