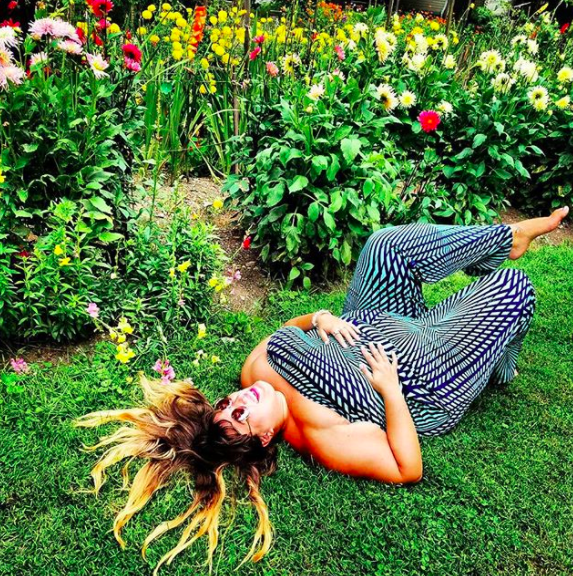 Activist and somatic therapist Rachel Otis (@somewhere_under_the_rainbow)
In honor of Fashion Week, Vogue's September Issue, and all the fun the comes with fall fashion, we'll be talking about plus-size fashion — otherwise known as "fatshion" — throughout this next week! Plus-size style boasts its own beautiful, unapologetic brand of contemporary fashion, and we've curated a range of writing that aims to capture both its political roots and unique aesthetic. Find the rest of the stories featured in The Fatshion Conversation here.
---
Fashion is often described as fickle and soulless by critics. While they aren't necessarily wrong, they aren't right, either.
Most critics have not experienced the same world I have the privilege to be part of. Those critics have not seen the joy on someone's face when they see someone with their same extra-extra large proportions walk by while baring their midriff, looking unphased by fatphobes and serving unbelievably fierce outfits and face.
They have not seen a woman in a wheelchair nearly silence a room as she enters — not because of ableist discomfort, but because of her absolute awe-inspiring ensemble.
Critics have never seen a non-binary person put on masculine-styled clothing that was cut for their breasts and hips, allowing them to comfortably exist within the same styles they have longed for in order to express their gender.
Style is not the enemy — it's the folks who leverage power against those who are perceived to not possess it. Clothing is not the problem, it is the industry which refuses to produce garments for larger bodies while exploiting millions of people around the world in sewing rooms and shops.
Fashion can be an easy "in" for discussing more necessary personal and political issues. These remarkable fashionistas utilize their style and space in the world to discuss difficult topics and fight for accessibility along the way. Diversify your IG feed with these fashionable activists and start having tough conversations with people around you.
1. Tatiana Lee: Plus-Size Fashionista, Disability Rights Advocate (@mstatilee)
An actress, model, and lifestyle blogger, Tatiana Lee also blogs from the perspective of a woman living (and thriving!) with Spina Bifida. You can catch Lee's work on her own blog, Accessible Hollywood, and as a collaborative effort through the awesome Cur8able website which centers perspectives of people with disabilities from all walks of life.
2. Harnaam Kaur: Body-Positive/Anti-Bullying Activist (@harnaamkaur)
Harnaam Kaur is most recognizable for her strikingly full, luscious beard set against exquisitely feminine fashions. Kaur has dedicated her life to body positivity and speaking out against bullying after being targeted to the point of suicidality in her younger years due to hostility toward her facial hair growth from polycystic ovarian syndrome (PCOS). Today, she advocates body-positivity for all.
3. Yabette Swank: Sustainable Fashion Designer (@swanketyswank)
Fashion designer and visual artist Yabette Swank has based her brand Swankety Swank around a chic minimalist athleisure look that is also sustainable. Each piece is made from natural fabrics like hemp, soy, vegan silk, and reclaimed fabrics, reducing fashion's carbon footprint. Swankey Swank is accessible for bodies up to a size 3x, with custom work available in larger sizes.
4. Saucye West: A True Plus-Size Pioneer (@saucyewest)
The brain behind  #thisiswhat400lbslookslike and the #FatAndFree campaign, Saucye West represents women who just want to live. She embraces the word fat and refuses to be bullied by fashion- and diet-industry standards, paving the way for dark-skinned models and people size 28 and above, one fabulous pose at a time.
5. Bruce Sturgell of Chubstr: Plus-Size Representation For Masculine Styles (@chubstr)
Frustrated by lack of choices and representation, Bruce Sturgell created Chubstr to chronicle his awesome mens' plus-size looks and where to find them. In doing so, he became a voice for others who were struggling to see men with bodies reflective of their own, creating a map of accessible fashion for all. Today, Chubstr highlights other stylish plus-size men and continues to shine a light on brands creating stylish, accessible clothing for bigger bodies with masculine tastes.
6. Aarti Olivia: Chronic Pain & Illness Writing (@curvesbecomeher)
Aarti's blog and Instagram have chronicled many gorgeous outfits, but they have also addressed serious topics like chronic pain and its serious psychological impact. She discusses body-positivity with a tender fierceness so impactful that you know she's in your corner no matter what you might be thinking about yourself that day.
7. Dr. Jonathan P. Higgins: Black Lives Matter & Queer Representation. (@doctorjonpaul)
Writer and influencer Jon posts photos of himself thriving, frequently wearing political messages sprinkled amongst other great looks. With bylines published in Blavity, The Root, and other deeply important Afrocentric political websites, he talks about tough issues that are otherwise seldom brought to light.
8. Abbey Mag: Sudanese-Australian Activist (@abbeymag)
Australia, while beautiful and diverse, is known for its xenophobic attitudes toward immigrants and even its own dark-skinned indigenous peoples. Sudanese-Australian activist Abbey Mag is helping to carve a safe space for Black people in Melbourne and beyond with a cohort of other like-minded folks within The Blvck Muse.
Style may know no age, but ageism is rampant in the plus-size fashion community and most fashion-related communities in general. Despite this, Marcy Cruz is the fearless age 40+ blogger behind Fearlessly Just Me. She defies all ageist expectations and simply rocks her looks, showing women everywhere that you can wear what you want at whatever size or age.
10. Rachel Otis: Chronic Illness, Mental Health, & Queer Identity (@somewhere_under_the_rainbow)
Rachel Otis combines a love of stylish clothing (especially swimwear!) with her profession as a somatic therapist. Otis talks about issues regarding body positivity, queer identity, chronic illness, and mental health — and she created the popular hashtag, #FuckFatphobia! Check it out for great body positive images and videos. 
---
Related: