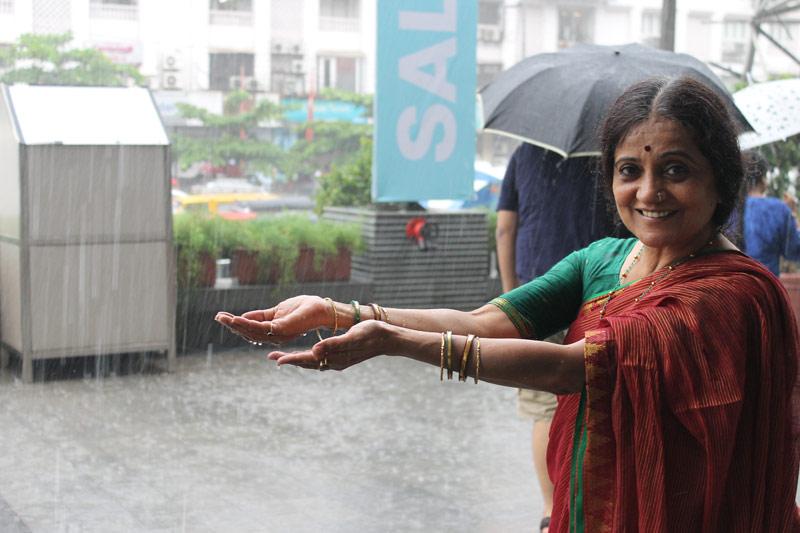 If you love Hindi cinema, fondly known as Bollywood, and have followed the evolution of the industry even just a bit, there is one person who's impossible to miss—Bhawana Somaaya. She is a professional movie buff—a hardcore musical lover, star interviewer, celebrity biographer, and prolific film critic.
Having studied psychology and journalism in Mumbai, she began her career as a film reporter in the 1970s and has been writing about cinema in numerous outlets since—so far she's churned out a whopping 12 bestselling books.
And she doesn't just write, either. She's also a film expert with Radio Channel 92.7 Big FM, making her one of the few senior journalists who is visible across all media—from print to radio to web. In fact, few film award functions take place without Somaaya's expert guidance, few movie directors forget to call her up on a movie's release day, and few movie lovers go a day without reading her incisive interviews or columns.
We heard from the famed critic herself, who let us in on the film journalism industry, Bollywood, and her thoughts on celebrities.
You have 35,000 followers on Twitter, and yet I've read that you love completely shutting down your electronic devices to relax. How do you manage this dichotomy of staying connected to technology without becoming addicted to it?
I work on the computer in the first half of the day, after which I refrain from it unless it is an emergency. I'm against addiction of any kind. I firmly believe that those who follow me on Twitter are here for quality content that's credible. You cannot win people with mischief or manipulation.
What do you think makes you one of the most followed film journalists in India?
I just do my job; I write my columns and books as sincerely as I can. People say they like my writing and identify with my thought process. I hope I can continue to live up to their expectations. What works for me is credibility and consistency, I think.
You have watched the Bollywood industry through the years, starting in 1979 as a reporter. How has the industry evolved since you started?
A lot has changed and a lot remains the same; the 1970s were days of multi-starrer films, the 1980s was a rough time for the industry, while the 1990s paved the way for young filmmakers like Aditya Chopra. And 2000 of course changed cinema after Dil Chahta Hai. From single screens to multiplexes, from Dolby cinema to Sync sound, from makeup rooms to vanity vans, technology has advanced but the content, emotions and people are the same—well, almost.
You've written books and authorized biographies on the biggest stars of the Hindi film industry, constantly rubbing shoulders with the all the main actors and actresses on the scene. What are three important lessons you've learned about the industry?
That times change, circumstances change, status changes but you have to be sincere to your job. There are also no shortcuts to lasting success. Finally, that there are no permanent friends and no permanent enemies in showbiz!
What kind of effort goes into, say, writing the biography of Amitabh Bachchan, one of Bollywood's legendary actors?
Writing a book is more about discipline than craft. It is about time management with a regular job and regular life. Writing about celebrities is a little more difficult because you are dealing with vulnerable, artistic, sensitive people. That they are all the time in the limelight makes it more difficult. I would like to believe that top Hindi movie stars such as Hema Malini or an Amitabh Bachchan agreed to my penning their memoirs because they have faith that I will not abuse their trust. My intention is to explore rather than sensationalize.
Tell us about an average day in your life.
I like to wake up early and go for a walk but I never manage to rise before 7:30. I make my own tea and putter around the apartment, opening the windows for fresh air. At 8:20, I walk to the 92.7 Big FM studio for my daily morning link on the breakfast show. I return at 9 and relish another cup of tea with my pile of newspapers. At 9:30 I eat breakfast, after which I disappear to my study for a quick check on emails and social media updates. Then I focus on my daily column and a chapter of a new book. I take a lunch break at 3 after which I check my messages, shower and return to the Big FM studio where I work as an entertainment editor. In the evening I usually have a meeting, screening, or event, depending on the day. I generally avoid parties and eating out, instead watching a bit of TV or reading before bed. I lead a very productive, constructive day; Wednesdays and Thursdays are for new screenings, Fridays for reviews and recordings, Saturdays for friends and Sundays strictly for family.   
How do you find nirvana with so many responsibilities? How often do you go on holiday and how do you unwind?
Spirituality is in the mind, it is a way of life. I pray every morning that I must think, act and speak positively about others and myself. I fly to see my sister every alternate month and stay with her for three days. Just being home and listening to her humming domesticity, talking about our deceased parents unwinds me. I very seldom take holidays because the life of a critic revolves around new releases. But when I sense some weeks are uneventful I do take off with friends—and always without a laptop. I travel a lot for work both in India and abroad and that always refreshes me.
Many aspiring journalists imagine being a film journalist is the most fun media job. Do you have any advice for them?
It is a lot of hard work. Film journalism is perhaps the most difficult of all journalism because you are dealing with eccentric people. Today, though, it is easier because journos don't have to make any inroads with people for a story—everything is organized at the appropriate time by the PR machinery, so it's not surprising that many film stories have lost their sting and the bite. All stories now sound the same, just in the way all actors look the same in designer costumes—like assembly line products.
Having seen stars in their more real moments, what's your take on celebrities? Do you think they're overly hyped?
I think we need to look at them as human beings, they are as real or fake as us, and they have their moments of strength and weaknesses just as we do. They are very likeable, actually, and good judges of people. You can never fool actors because they are traders of emotions and expressions.
In India, fans often become obsessed with the lives of their favorite actors and actresses. Do you think the media should report on the personal lives of stars?
I have never done it. I have never written an article that I have not believed in, never asked questions that I was not convinced of. Today, unfortunately, journalists are hired on the qualification that they can break stories. Journalism is less about writing and more about accessibility. But I would never abuse my contacts for the sake of a story. The day editors and reporters start writing about what interests them—rather than what they perceive their readers' interests to be—we will have more productive journalism.
When you are friends with stars, what happens when you need to ask them tough questions?
I believe that you can ask anybody anything. It just depends on how you ask it and what your intention is. Are you just asking a question because your editor has asked you to, but are frightened that you will get a defensive answer? The star respects you when you are on side of the truth, and if there is a controversy that is waiting to be addressed you have to raise questions irrespective of your relationship. It is called work ethics and there cannot be any compromises on that.
You can follow Somaaya's work on Twitter @bhawanasomaaya or on her website.