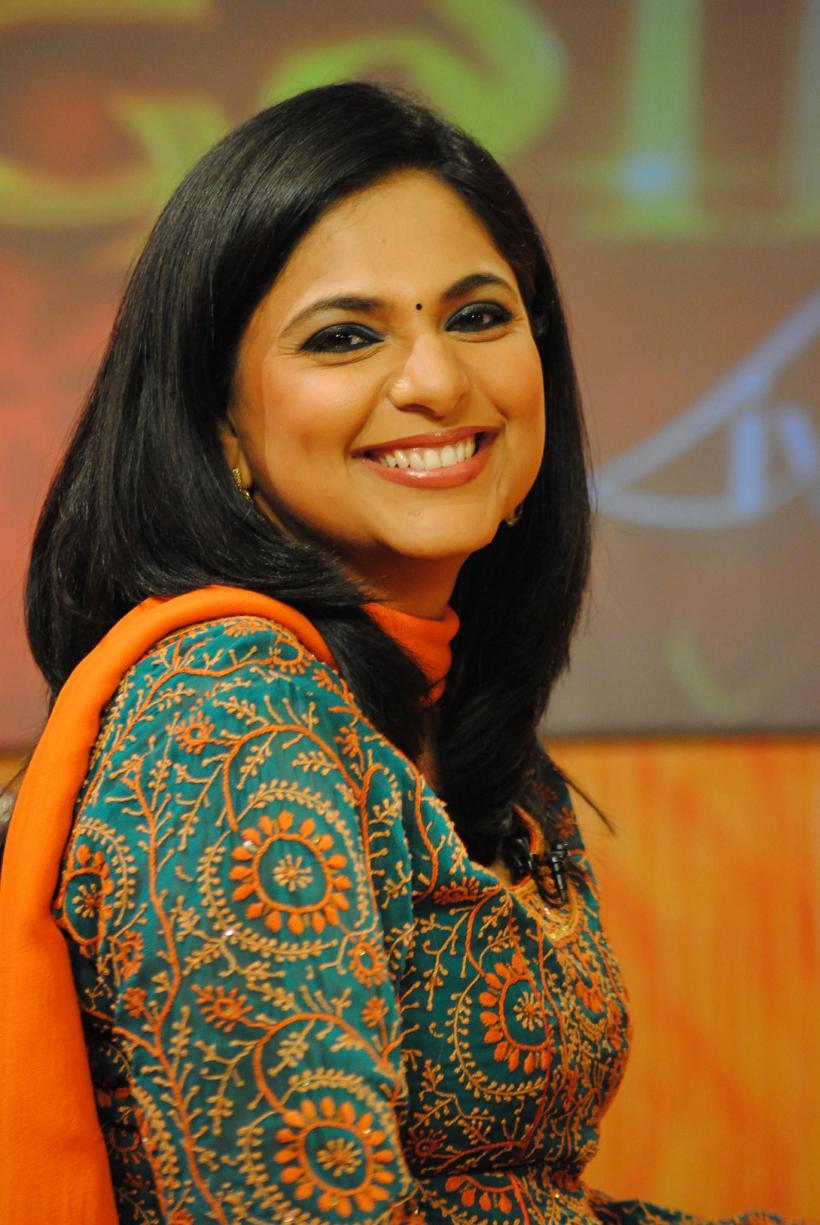 Perhaps one of the best ways to get a snapshot of a person is to look up his or her schedule. Were you to do so for Richa Anirudh, India's prime time news presenter, radio personality, talk show host, motivational speaker and more, and you would be bowled over by everything she manages to pack into a day—and all with a beautiful smile, words of wisdom, and a vibe of warmth and hope.
Most mornings, while you're still struggling to get out of bed, Richa is on Big 92.7 Delhi FM giving a wake-up call to New Delhi's masses on her breakfast show Dilli Meri Jaan. She generally devotes the pre-lunch segment of her day to speaking at a college, moderating a panel discussion, reading at a book launch event, or serving as a motivational speaker to a group of women. Then she's dashing off to edit her new monthly magazine publication for school students titled School Live. After a quick catch-up on home affairs and updating her 90,000 social media followers with her thoughts for the day, she drops by the IBN7 office to read the 9 pm news—the most-watched time slot in all of India.
She attributes her ability to excel at so many roles at once to having interacted with several hundred people at close quarters daily for her landmark talk show Zindagi Live a few years ago. The show was India's first talk show and has touched on a swath of important matters in Indian society—including some that are taboo. Best known for her sensitivity and ability to empathize with her interviewees, she says: "I am a woman, and that warm, soothing and nurturing streak comes naturally to me."
She filled us in on how her childhood shaped her success, the role of a broken hand in the genesis of her marriage, and the nitty-gritty of being a star media personality.
From the small town of Jhansi in North India to a primetime TV host of a high-profile show in Delhi, your journey has been remarkable. Can you describe your background a bit, with maybe a few glimpses into your childhood and how it shaped who you are today?
I was born as Richa Badal (my maiden name) in 1975 in a family of grounded and hardworking people. My dad is a doctor and my mom is a homemaker. I studied in a regular private school in the historic town of Jhansi in North India
. My mom has always been a very progressive person and even in that small town, she always wanted me to make it big. I wasn't exactly sure what I had to become to make her proud. But I was always good at school, public speaking, community work. In general, I was an active and sociable student throughout my childhood.
We hear that while you were the one who fell and broke your hand years ago, it was really your husband, Anirudh Thatte, who fell for you—hook, line and sinker.
Yeah. Funny story. I was 14 years-old and broke my hand. My future-husband Anirudh's dad—who was a family friend—was an orthopedic surgeon. I remember running into their house to get it treated and demanding that they switch on the TV because my favorite show was on. Apparently Anirudh was fascinated seeing how sociable I was—also the way I mingled with everyone. He wooed and pursued me for the next three years and we got married when I was 22 and had just finished my degree. It was all so smooth, as we used to hang out with each other frequently and our circle of friends was sure we would tie the knot. Surprisingly, we never had the formal "will you marry me" moment. It was a very casual and natural progression to getting married. Then my daughter Ayesha was born when I was 25.
So you started your professional journey in 1997 after you were married?
No, in 1995, I started doing a computer course with ApTech Computers in my hometown Jhansi. They were looking for a student counselor, and asked me if I wanted to work—I jumped at the offer. In 1996, I moved to the national capital of New Delhi where I had to finish the last leg of my computer course. It was at that time that I got an offer to work with an art and culture organization called Spic-Macay for whom I had volunteered when I was in college. They were paying me Rs 3,000 (about $50). I felt grown-up and independent. On one occasion, when I was talking to the local press about the upcoming convention, someone from national television suggested that I give them the "bytes" about the show. That's how I made my first, unexpected debut on national television. Knowing Hindi (India's national language), being articulate, and being photogenic did help. And I landed a show on gardening.
In 1997 after my marriage, I started working for a vernacular daily newspaper. I took a break from work when my daughter was born. When I wanted to get back to fulltime work in 2001, I got an opportunity to work as the media manager for the internationally renowned Sitar maestro Pandit Ravi Shankar for more than a year.
In 2002, I formally entered the world of hard news by joining Zee News, a 24-hour Hindi news channel. Three years later, I moved to IBN7. Just when I started getting bored of hosting news shows, the TV channel proposed a talk show.
That's how India's first talk show along the lines of Oprah took shape in 2007, a remarkable year for me also. In the very first year, my talk show, Zindagi Live, won the Best Talk Show award given by Indiantelevision.com (and for the next six years too) for its episodes on relevant social issues like student suicides, female feticide, child sexual abuse. We tackled subjects that are generally taboo in Indian society, such as homosexuality. After that, I took a break and edited a coffee table book called 'The Indian Woman.' I am back again in 2014 as a freelancer—news presenter of a primetime news bulletin, a radio compere and editor of magazine.
Your website defines you as a "speaker, mentor, author, host, friend." What is the real Richa like? Which role do you most enjoy and why?
Aaah. Tough one. I enjoy being just simply Richa, a small town girl—sans makeup and pretensions, comfortable in her own skin, at home, just being me. It's not my role, but my soul, that defines me.
Zindagi Live is a landmark show in Indian television. How do you think it has impacted society? What goes into the making of the show?
I think it touched a lot of people. For example, a young girl from Allahabad in central India told me that she dropped the idea of taking sleeping pills and ending her life after she watched a special episode of women braving the odds stacked against them. We often get to hear about Zindagi Live helping people choose the right profession and path for them.
And on a personal level, I have become a better person. After having heard the gut-wrenching stories of so many people—mothers who lost their only children to a war, people making it big in life despite their empty stomachs and grueling poverty etc.—I have become more tolerant and feel more grateful. I've stopped asking "why me" and instead have adopted the attitude of gratitude.
You have been vocal about the Nirbhaya rape incident that shook the nation in December 2012. What do you think is the solution to the widespread issue of sexual violence against women in India? Having worked closely with many rape victims for your show, do you have any sense of what their perspectives might be on addressing this issue?
Frankly, I don't feel safe anymore. A friend once went to a lady police officer to complain that her husband was beating her up. The cop said casually: "That's no big deal. It's part of every marriage." In such circumstances, it's important that women learn to stand up for themselves. Unless they are assertive, they will never be able to fight issues such as gender bias in workplaces, sexual abuse of women and so on. The first step to getting safer and find one's right place is to stand up for yourself.
You are currently juggling the TV show "Dilli Meri Jaan," hosting the news, and running a school magazine—School Live. What else is in the cards?
For now, I am back on primetime television. Hosting the radio show is immensely enriching as I am dealing with trying to find solutions for day-to-day issues in New Delhi. Hosting the news keeps me updated on all the current affairs. Working with students to gather feature stories for my monthly school magazine School Live helps me stay young and enthusiastic.
How do you keep yourself updated and prepared for all that you do? Do you have a management mantra?
Yes, my management mantra is: "Let it go, don't fuss." Prioritize your work, but choose your top three tasks and don't get worked up on what you cannot do. I practice Osho philosophy which advocates doing the right thing and not trying too hard to accomplish everything and please everyone in one go. Slow and steady does it.
As such a busy woman, how do you unwind from all the pressures? Do you go on any fun vacations with your husband and daughter?
I love to drive, sing, dance—my daughter Ayesha Anirudh Tatte is my dance partner. I am also into Osho meditation. It helps me de-stress. I take off on an annual ten-day spiritual camp to the hills.
You are among the best dressed of all the television hosts in India, looking contemporary and chic both on the air and at events. Are your clothes and accessories from your personal collection? Do you have any style suggestions for women who want to look their best?
For some shows, the production house sponsors it. In other cases, I choose from my own wardrobe. I would like to believe that I have the right sensibility and judgement when it comes to wearing an outfit. I try to wear something ethnic for a social event; something more funky when I go for a college or youth event. I love to stock up on quirky jewellery and accessories.
Do you have a wish list for 2015?
A trip to the Konkan coast with family, moving into a new home,, lots of hope and love. At the end of the day, I will take one day at a time and relish it fully.