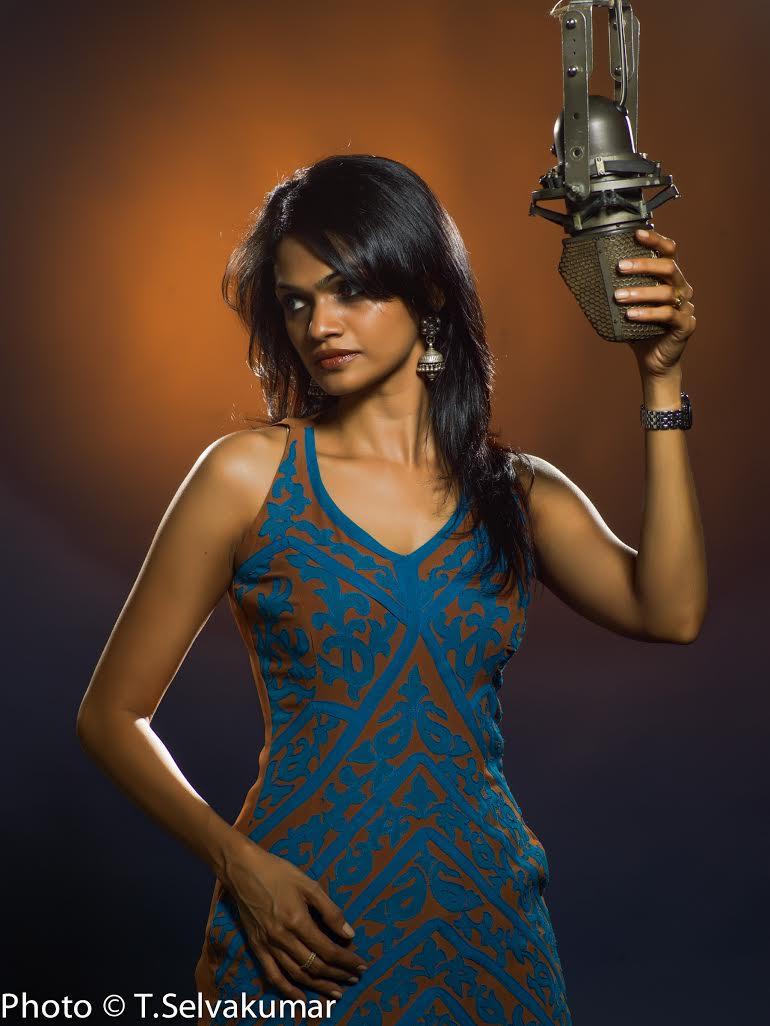 If you have ever been to South India and traveled by road, chances are that any one of the radio stations are playing a peppy "Suchi" song —no matter the hour of the day. And why not? South Indian live and playback singer Suchitra Karthik Kumar—"Simply Suchi" for her fans—manages to impress not just her music directors and fans, but even the irate drivers negotiating peak hour traffic with her repertoire of 500 songs.
Suchi shares her interesting journey into the world of music with us.
You are a popular playback singer and a peppy on-stage performer down south (recently at the Mirchi Music Awards). How would you sum up your journey? Was it smooth sailing? Or very tough with struggles and tears?
Pretty smooth. I've been blessed with composers who recognized that I have a specific tone, and "created" songs for it ("Yen Idhayam" from Singam, 'Tharai Erangiya' from Eeram and "Kanninima" from Anwar are examples). It also keeps me exclusive, not overworked and therefore no burnout!
You have a hectic life with a playback session on one day, a live performance for an awards function another day and perhaps giving a voice-over for a character another. What is a typical day in the life of Suchi? Do you have a mantra that allows you to balance all these and still be able to give your best to work?
Some days are packed with 17-18 hours of work and some days go by with nothing at all. I love this kind of life. And some small routines of mine, like a shot of apple cider vinegar in the morning, and half an hour of guitar practice, are constant—no matter what the day looks like. These things keep me centered.
You transitioned from an IT job to radio hosting a few years ago. Why did you make this transition?
It happened organically. I always rely on common sense and instinct to make my decisions. So when such opportunities came alone, if it "felt" right, I went for it.
You've had a successful stint as a radio jockey for Radio Mirchi but your primary profession is singing. In such an industry where new talent and new faces often get the attention, how do you maintain your personal brand?
Again, it happened organically. Maybe my personality helped too. Sometimes having a personality to go with a voice makes one more of a media person than just a singer.
How do you keep yourself updated on your skills, your looks, the latest musical equipment etc? What do your read or watch to stay on top?
I learn all the time. All the time! I'm a curious student of everything—music, food, fashion, life.
Any specific hilarious or memorable moments from your time in the limelight?
Yeah! One day, this guy comes up to me and says, "Hey I'm a huge fan of yours. I follow you on Twitter. May I please have a picture with you. . . . . Chinmayee?" Haha, I simply said "thank you." [Chinmayee is another popular singer, a contemporary of Suchitra.]
With late night shoots and rehearsals, how do you stay safe and secure? Is there is a small emergency kit that you often carry in a big, bad city like Chennai, India?
Chennai is absolutely safe! It has the most helpful, respectful people. I have never, ever faced a problem here.
As a playback singer for films, there are times when a movie doesn't do well and your song barely gets heard. How do you handle the disappointment of a song you love—and put a lot of work into—not getting much attention?
By detaching. I don't associate expectations with any song I sing. I love it for the way it makes me feel when I sing it, and I have it on my iPod for life. It makes me feel blessed and grateful each time I listen to it, and my life is more beautiful as I have that song in it. What more do I need?
Who are your musical role models, and why?
George Michael for the longest time; I love the way his personality shines through his music. Each time he has reinvented himself, his music has reflected it. In India, Amit Trivedi and Rex Vijayan. To me, they come across as musicians who have let their music organically flow through them. Almost like they are a conduit to it, and not really the "inventors." Early Ilayaraja music feels like that to me too.