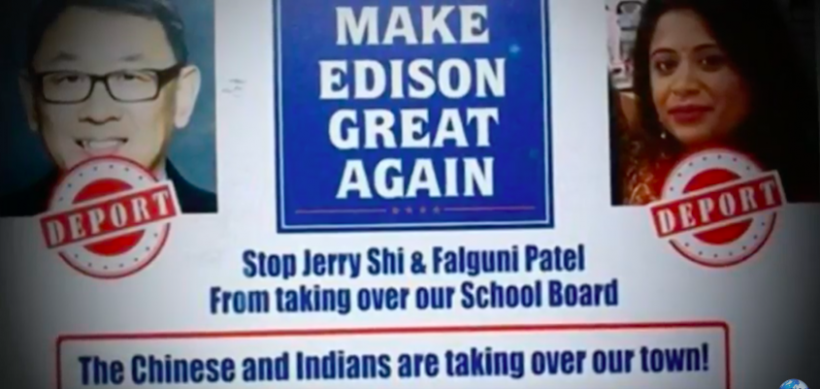 An as of yet unknown group has sent a disturbing racist postcard to residents warning of Asians "taking over" Edison. (Image: YouTube/ Zevo News)
If we've learned anything about what the Trump administration meant by "Make America Great Again" it's that some backward thinking people seem to think that being racist is the same as being Patriotic. Take for example news out of Edison, New Jersey that an as of yet unknown group has sent a disturbing racist postcard to residents warning of Asians "taking over" Edison.  
The postcard reads, "The Chinese and Indians are taking over our town!" And in a disgusting display of ignorance and hatred, it shows the images of two school board candidates, Jingwei (Jerry) Shi and Falguni Patel with an image of a red stamp that has the word, "DEPORT" in all caps and covering part of their faces.
The post card also includes a horrifying echo of Trump with the words, "Make Edison Great Again" by apparently ending cultural diversity as the postcard complains, "Chinese school! India school! Cricket fields! Enough is Enough!" 

But the racist creator of this disgusting postcard wasn't done because on the flip side, it reads, "Stop the overcrowding! Stop taking over our sports field! Stop the McMansions! Stop the multiple families living in the same house! Stop wasting school holidays! Stop the outsiders! Let's take back Edison!"
Patel, one of the candidates, told New Jersey 101.5, "I'm obviously disgusted by it, to say the least." She added, "I was born and raised in New Jersey. To see the word 'deport' on my picture — where are you going to deport me to? Really, it's just outrageous." 
As a parent, reading news like this both horrifies and infuriates me. 
We can do better than this, people.
Edison mayor, Tom Lankey (Democrat) has called the mailer "despicable" and told New Jersey 101.5 in a written statement:  "Edison has proudly embraced our ethnic, cultural and religious diversity. It has become a sad reality that in our polarized political atmosphere, some people suddenly feel empowered to publicly express these vile ideas. Make no mistake; we will do everything we can to expose the shameful people behind this." 
Edison has a population of 98,996 residents, 37.5% of which are Asian.
As a mother of three kids and as a feminist woman, this kind of gross abuse of free speech enrages me. This is not 1930; in fact, this is not even the 20th century anymore. 
In a country that was founded by immigrants and that has seen some of the world's most impressive and awe-inspiring feats of creativity, engineering, and the human spirit, there is entirely no room for bigotry, racism, and hatred. 
Enough is enough, indeed.
---
Related: