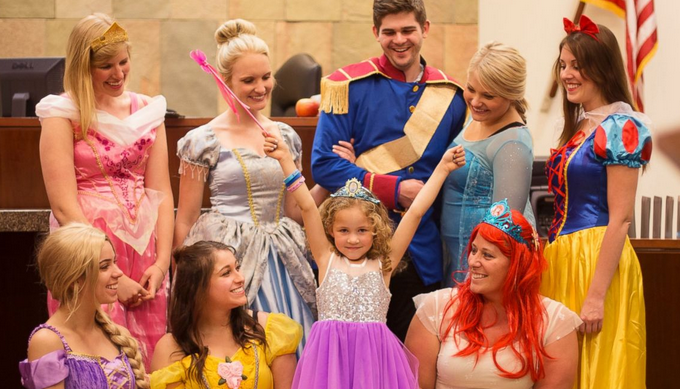 Wishes do come true! Source: ABC News
In the midst of a week that's been rife with sadness and confusion, I am pleased to present to you a story that is unequivocally happy. A fairy tale ending, if you will.
Danielle Koning, age 5, has been living with her foster family since 2014. This week, the Grand Rapids, MI family went to court for the final hearing in Danielle's adoption process. But the family wasn't alone when they went in for their legal proceedings. Some surprise guests showed up to make the day a little more magical.
Danielle loves Disney princesses, so some of the case workers from Samaritas Foster Care Program and Child and Family services came to the courtroom dressed in full princess regalia.
"She was shocked when the princesses first came in. She sure was," Danielle's mom, Sarah Koning, said. "The look on her face was priceless."
Even the judge, Judge Patricia Gardner, got in on the surprise, removing her robe to reveal a Snow White costume underneath.
The idea started when Danielle's caseworker requested that a coworker who looks like Cinderella come in costume to surprise Danielle. Word got out in the office and other caseworkers wanted in on the surprise — eventually, Elsa, Cinderella, Ariel, and Aurora from Sleeping Beauty were represented.
Would it be corny to say this family is going to be living happily ever after? Oh, who cares. Ride off into your sunset, Konig family! You deserve it!