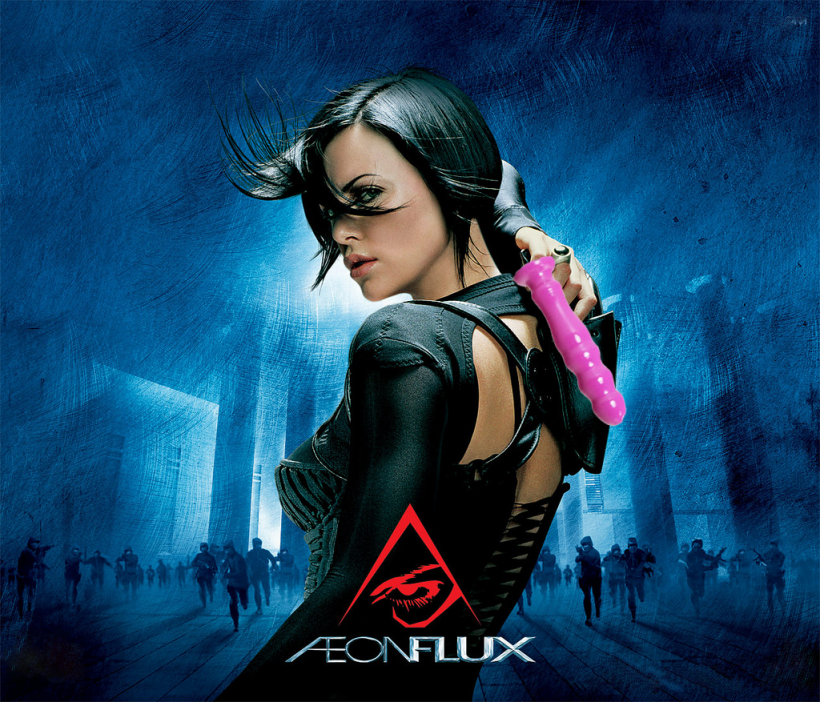 Original Image: Aeon Flux/Paramount Pictures
They say that only a good guy with a gun can stop a bad guy with a gun. That's clearly bullshit; the person who can stop a bad guy with a gun is actually a pissed off woman with a dildo.
Two women were working the closing shift at Lotions and Lace adult store in San Bernardino, CA last week when a guy with a gun walked into the store and demanded money. One store employee, identified as Amy, said that she thought the guy was pulling a prank with a fake gun. When he started asking her for money, she resisted.
The guy tried to grab at Amy, and that's when her coworker started lobbing dildos at him until he took off.
"They do come in handy," quipped Amy in a local news story about the incident.
Word, Amy. Word.
The best part of this story — aside from the fact that no one was hurt — is that it was all caught on video. Amy and her valiant sidekick Dildo Girl are forever immortalized scaring a big, tough, wannabe criminal off their premises by pelting him with rubber dicks. This guy ran away from girls with sex toys, and everyone in the world can watch it happen.
Police hope to identify the perpetrator with the surveillance video of his face. I'm sure they want to know who he is so they can arrest him for attempted robbery and maybe a gun charge or two. I, however, want him identified so he can be forever be known as Dildo Dude. I want the whole world to see him and say, "Yo, Larry! Better run before I pitch a dick at you! Ha ha ha!"
I'm just glorying in this whole story. For most of human history, people with dicks were the ones who got to be the aggressors, who got to use penises to intimidate other. For one shining moment, these two badass women in California turned the tables and fought phallocentrism with phalluses. They unmanned a man using manhood. They dicked the dick. 
Brava, women of Lotions and Lace. You are the heroines we need. We salute you.