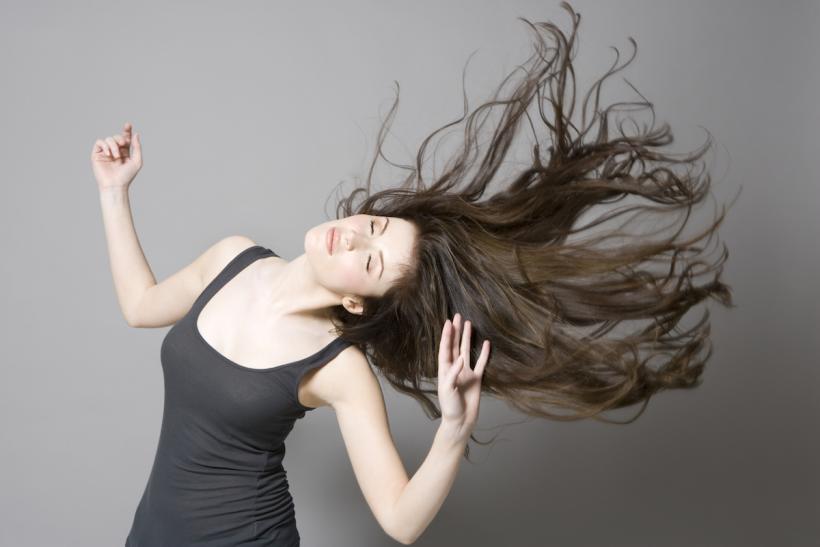 We know what we want, and we aren't afraid to take it
Every strong woman needs a playlist to play while having sex. She needs a compilation of her empowering badassery to put her in the mood and keep her there.
Luckily, we've got the ultimate roundup of songs right here. From Lady Gaga to Trove Love, these sexual, amazing, and fierce female artists will take you from foreplay to orgasm like the empowered woman you are.
Here is the sex playlist every strong woman MUST HAVE in her sexual arsenal. Download it and keep it forever. You're welcome!
"Cola" by Lana Del Rey
Considering today's political lexicon (ahem, Donald Creepshow Trump), any song that starts with the line, "My PUSSY tastes like Pepsi Cola," is totally empowering and badass. Lana Del Rey's music is so sensual, and her lyrics are so raw, it will put you in the mood immediately.
"A-Yo" by Lady Gaga
At long last, we've got some much-needed jams from our favorite idol, Lady Gaga. Her new song, "A-Yo," is my new feminist anthem. "Get off on me, my body's got you pleadin'. Light me up and breathe in. Mirror on the ceilin'." It will amp up your foreplay like the boss lady you are.
"Raise Hell" by Dorothy
Dorothy is the gothic, badass queen we all aspire to be. "Raise Hell" is a song preaching not to give a fuck about what a wild, party girl prima donna you are, and to live your life the way you want to. It is pure sex.
"Partition" by Beyoncé
Every strong woman needs some Beyoncé on her sex playlist. In the heat of foreplay (or screwing), this song is everything you need. If you're not having sex to "Partition," are you even really having sex? The beat alone was made for humping.
"Nobody's Baby" by Sharon Jones & The Dap-Kings
"Nobody's Baby" starts off by saying, "I done left you here. All you by yourself. But it ain't my fault, baby, you treated me like a fool." This song is a reminder that you're not going to take crap from anyone, not even during sex. You are in control of your body and your life. You're a boss, and you know it. I think your partner knows it, too.
"Talking Body" by Tove Lo
Tove Lo's entire album is sex, but this song is clothes-peeling-off delicious. An empowered woman deserves nothing less than "Talking Body" because it's about knowing yourself and what you deserve: multiple orgasms.
"Rude Boy" by Rihanna
THE BEAT IN THIS SONG. It just makes me feel sexy. Rude Boy might seem a little intense for a sexual encounter, but it's actually perfect. You're not taking anyone's shit, and this guy should know that. Let RiRi be your guide.
"How to Be a Heartbreaker" by Marina and the Diamonds
"How to Be a Heartbreaker" is about taking away a man's power over you and being the one in control of a relationship. It's a little toxic, but who doesn't want a little toxic love when they're banging? The song feels so upbeat; it keeps the mood electrified.
"Shoutout to My Ex" by Little Mix
OK, so not everyone wants to think about their ex while getting laid. But a strong woman does. She wants the guy she's having sex with to know she's here, in the moment, and kind of wants her ex to know she's having sex with someone else, too.
"Shut Up And Drive" by Rihanna
This song will always be a classic for boss ladies everywhere. We know what we want, and we aren't afraid to take it. Now, shut up and drive.
"I Couldn't Care Less" by Leslie Clio
This old-school-esque jam is incredibly empowering and fun. "Maybe I'm lost, but I don't need to be found," Leslie Clio coos. This song is especially good for one-night stands when you need a little confidence boost and a reminder that you're a badass bitch. You've seen some shit, and you're taking on the world.
"Waiting Game" by Banks
"Waiting Game" is the perfect song for when you're getting into the rhythm and having a super passionate moment during sex. If you've already finished, it's also a very nice cool-down song. It's definitely deeper than the other sounds on the list, but it has some serious soul.
"Indulge" by JONES
JONES makes me want to get naked. "Indulge" is like liquid seduction. It's about letting go of inhibitions and letting yourself feel super passionate about someone. It's about not being afraid of the fire, you know? You can really feel the tingles all over your body when it plays.
"Get Some" by Lykke Li
"Get Some" is a great song to get you ready for round two, but it's also chill enough to listen to while you're just talking and cuddling post coitus. Need proof? "Got you around my finger like a lonely lover's charm. Like a lonely lover's charm," is one hell of a sexy line. It's got a classic rock/indie feel that just keeps it real.