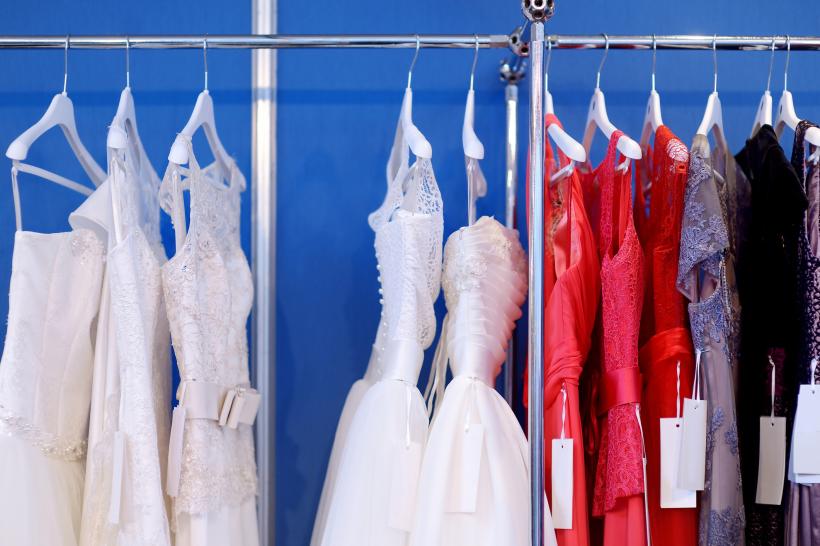 According to the website, WeddingWire.com, the average bridesmaid spends $1,200 on one wedding.
One of the things we all like to talk about, when we talk about being a bridesmaid, is how incredibly expensive it can be. You might not remember that significant detail when you're jumping up and down, hugging the bride, and screaming, "Yes, of course, I'll be your bridesmaid!" But you will remember it when the emails, the text messages, and the phone calls start flying in, asking you to pay a little money here, and a lot of money there.
According to the website, WeddingWire.com, the average bridesmaid spends $1,200 on one wedding.
Where does that money go? First comes the bridesmaid dress (which can be a couple of hundred dollars, after alterations are involved), then comes the down payment for the bachelorette party extravaganza and the bridal party lunch, followed by travel and accommodations for those events and the wedding, and finally, of course, a gift. 
For some women, being a bridesmaid isn't a once in a while thing, it's a yearly occasion, where they might be asked to be a bridesmaid in multiple weddings a season. That's a couple of thousand dollars in cash they are shelling out a year for someone else's wedding, for a dress they will never ever wear again, and a bachelorette party they might be rolling their eyes at when they think about attending. 
So even if you feel like you have to say yes to being a bridesmaid at another wedding this year, take a step back and see how you can save money, and blow your $1,200 on something else. Something like one of the items from the list below, that all cost the same amount of cash as being a bridesmaid does. 
A Trip To Space
Well, not actually to space, but to adult space camp, which is practically the same thing. For $549 a person, you can grab your best friend, or your partner, and treat them to a three-day experience, where you can see what it takes to be a real-life astronaut. Plus, you'll walk away with enough Instagram pictures of you in astronaut gear, that it will never make you want to take another picture in a bridesmaid dress again.  
A Pair Of Spikey Red-Sole Shoes 
If you've donned the nickname, and the reputation, of being Always the Bridesmaid, then chances are some of the most expensive things in your closet are the many bridesmaid dresses you've purchased, altered, and then never worn again. It's about time you invest in a fashion statement that screams, "Leave me alone, drunk Groomsmen," but can also serve as a lifelong wardrobe statement. For $1,095, you can get yourself a pair of black Louboutin shoes, with their bright red bottom, and bold silver spikes. The extra $105 you're saving, should be put toward a co-pay for a future visit to the podiatrist, who you might need to see after trying to walk in these shoes.
A Massage A Month For A Year
Think about the last time you spent money to treat yourself to something that oozes relaxation and waves goodbye to unwanted stress? For the price of being a bridesmaid at just one wedding, you can spend the same amount on getting recurring massages for one whole year. Massage Envy charges $100 for a 60-minute massage, which means if you spend your cash wisely, you can head to the spa, monthly, and treat yourself. 
Close To 1,200 Slices Of New York City Pizza 
Forget about fancy wedding food, which hardly tastes good anyway. If you put your $1,200 where your mouth, and your heart, is, then you could buy yourself, and your closest pals, 1,200 slices of $1 New York City pizza. That's three slices a day, every single day, for an entire year.
A Pair Of Diamond Earrings 
Ditch the pair of fake diamond earrings you bought for yourself back in college and instead invest your bridesmaid cash in a pair of real diamond earrings, that you can sport at the next wedding you have to attend. You can invest in a pair diamond cluster drop earrings (1/2 ct. t.w.) in 14k White Gold, for a little over $1,250. 
A Caribbean Cruise 
Wave goodbye to the bridesmaid life you're leaving behind you, as you board a Seven-night cruise to the Bahamas. Your $1,200 bridesmaid cash will get you a suite on a Royal Caribbean cruise. They'll even throw in $2,000 free cruise spending cash, which is way better than just one night of an open bar at a wedding. 
---
Related: