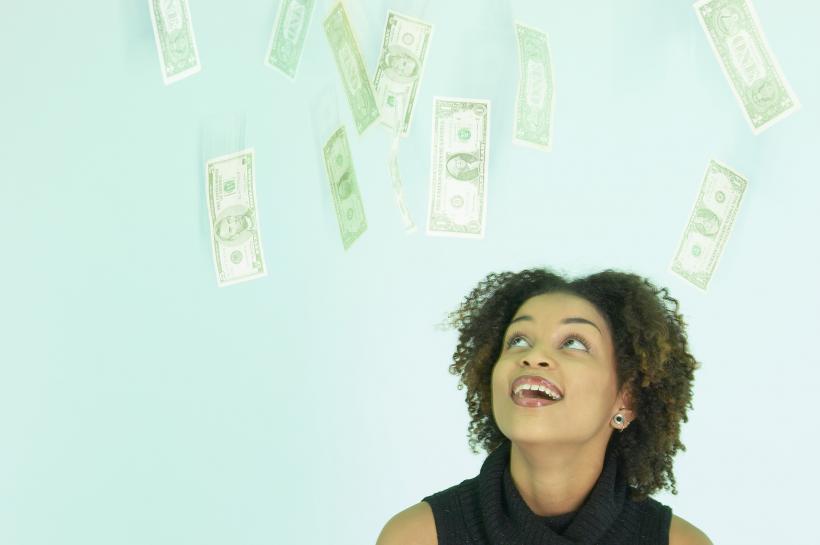 Let's talk about transparency in finance.
Can women have it all? Just kidding! I hate that question! It's an obvious "no" from my perspective, but I don't think that's necessarily a bad thing. I'll come back to that later on.
Over at Cup of Jo last week, there's a fantastic conversation about money and the anxieties that exist in our society surrounding discussing money. Career speaking, things are changing so rapidly regarding how we do business, how we work, and how we get paid. We're constantly asking, "How do I bill for this?" in private Facebook groups and amongst friends.
I believe in near-total transparency, and now is as good a time as ever to start discussing payment and fair wages in honest terms.
I tend to be quiet about my savings, but my best friend pretty much knows all. However, I'll tell any nice person who is curious about what I do and what certain jobs pay. Secrecy has allowed for too much income inequality, especially regarding both people of color and women — and if you're a woman of color, the odds are really stacked against you.  
More than one commenter on Cup of Jo's post discussed how they found out that they were getting paid less than other colleagues by having an open discussion about wages. I recently just went through the marriage VISA process for my upcoming move to the UK (my fiancé is English). For the sake of the VISA, we had to lay all our finances on the table in a file for a stranger at the British consulate to sort through. Now I know what he has, he knows what I have, and I feel closer to him in this small way.
We're at this weird point in our society where so many of us identify as "slashies"— meaning I'm a tv producer/stage manager/social media manager/writer! That's a mouthful (my business card just says writer/producer). And as many of you know, I'm moving towards phasing out my relationship with the entertainment industry. But because I have my hands in so many different pots, that adage about "having it all" comes to mind. People often ask me how I have time to do so many things. Last year my days existed of waking up at 6 am to babysit for an hour (which I do when money is tight), then getting on the metro and going downtown to a TV studio where I would stage manage two shows. Because my commute is an hour both ways, that was my writing and internet time before I picked up kids in the afternoon. Anything you read by me last year was nine out of ten times written on a train — occasionally on my phone.  
In last week's episode of How To Curate Your Life, Lizzie Evans interviews writer Emma Gannon about how she manages her work week: "I do a lot on my phone, I know that sounds ridiculous but I have the Google phone, and it's quite big, and I do all my emails just on it. And I can upload things on my phone and my job every single day is so different." Gannon also explains how she got her start in writing, working a full-time job by day and writing by night: "If you can't do an hour's blogging in the evening then like you can't want it that much." 
I could only go at that pace for so long before I burnt out, but that was the pace I had to run to build up my savings after several financially strapped years.  
In last week's episode of The High Low, Pandora Sykes and Dolly Alderton speak about the idea of "culture overload," the idea that there's always something you should be reading, watching, or Instagramming if you're an active member of this digital culture. But there's SO MUCH to read. When all your friends are writers, just getting through the sheer amount of essays written by friends can consume an entire morning. Sometimes it feels like a little too much. 
This autumn I'm mostly only writing with the odd TV gig while I prepare for my move. For a writer who works in the media, an internet presence is essential. But on top of it, I have hobbies. I've danced ballet for ten years now (yes, I have pointe shoes. Yes they are awful). 
How do I make time for it all? 
I let some things go. For example, I never watch television. OK, never is a stretch — I watch things I want to watch like The Handmaid's Tale and Insecure, but if a show isn't strongly recommended by fifty different people, I'll leave it alone. I also hardly ever go out to bars. Alcohol doesn't always agree with me, and some nights end in puke, so which one would do you pick? I choose a night buried in books. "Active disengagement has allowed me to become more actively engage elsewhere," says Pandora Sykes in regards to culture overload. That's exactly why I never became active on Snapchat. No offense, Snapchat, but I just couldn't manage another app.  
So there you have it. Can we have it all at once? No. But who wants it all?  When on earth would you sleep?
---
Related: