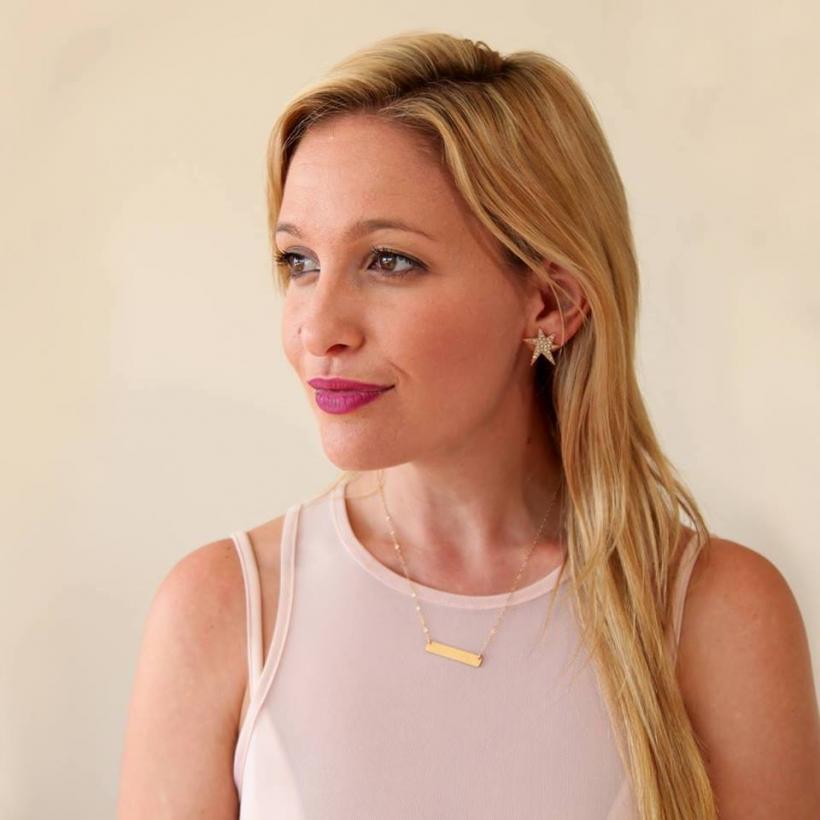 (photo courtesy of the author.)
When I go big, I like to go really over-the-top — extreme big. If I'm having brunch, and I have decided I'm going to go big, I'll order the tofu breakfast burrito, the oatmeal, a stack of pancakes, with a side of hash browns, an acai bowl, and a pastry sampler.
However, dating was never something I wanted to go big with. I enjoyed going on one, or two, first dates, every season, coming home from them, rolling my eyes, deleting my love-finding apps, and finding a lot of solace in low-calorie ice cream. I didn't know if I'd find love, but I was willing to stay at home, in my comfiest pajamas, binge-watching shows saved on my DVR, until love found me.
Until it didn't.
I was a few months away from my 28th birthday, scrolling through Facebook and seeing all of my friends post photos with their husbands, with their babies, with their mortgaged houses, and I started to get an urge to do something about the state of my own union. I decided to go big. Going on less than a handful of dates every 90 days wasn't getting me closer to meeting the love of my life; it was just making me defeated and nervous that I'd never find my match. So I decided, if I was going to do something to propel my love life forward, it should be going on 14 dates in just one month.
I picked the number 14 because it happened to be February, and I wanted to do something to stick it to my single status on Valentine's Day. I downloaded a few dating apps on February 1st and scheduled my first three dates during the first week of the month. My experiment took me until the end of the 28 days of the month to complete, and while I didn't find the man of my dreams, I found out a lot of really interesting things about myself, dating, and the human beings who swiped right and agreed to meet me in real life. 
Here are the top lessons I learned from going on 14 dates in just one month. 
Give People A Chance 
When I set in stone my firm goal of going on 14 dates in one month, that meant I had to find 14 people who would go out with me. It wasn't as easy as you'd think. I used just one dating app, and on there I vowed to say yes to anyone who asked me out. That got me on my first ten dates, but for the final four, I had to get aggressive. I would ask out anyone who I matched with, writing them a hello greeting, and following it up with a date and location of a proposed date. I didn't waste time waiting for them to make plans or to ask me out; I did all the dirty work. 
What I began to notice was that a lot of the people I found myself most attracted to in person, weren't people I liked when I saw their profiles online. I used to spend so much time judging photos and bios when it was more important to glaze over that and meet them in person. Through this experiment, I gave people more of a chance, and that made all of the difference. It allowed me to remember to get offline quickly with my matches, or else I'd over think the whole thing.
Keep Your Dates Short 
One of the reasons I dreaded first dates was that I felt like they would last an eternity. I'd be stuck on a date for three hours without an exit strategy, becoming annoyed with the person I was on a date with and feeling extra resentful toward them for keeping me away from my couch and my Netflix account.
When I did the 14 dates, I would sometimes book two or three dates a day. That meant I had to set time limits on the dates. No date went for more than one hour, and most lasted 30 to 45 minutes. That was enough time to spend with a total stranger from the Internet during our first time meeting. If there was a spark, or we had a good time, the second date could flow longer. But I began to learn, and love, that placing a time limit on a first date makes it more digestible to get through.
Go Beneath the Surface 
First date conversations can be generic and surface level. I was sick and tired of walking away from a date just learning about how the person who sat across from me felt about the weather, their hobbies, and their job. I wanted more out of date one. I wanted to know their hopes and their dreams, or just even a few things they were extra passionate about. 
That's when I started realizing that If I wanted the first dates to be memorable enough for me to decide whether or not I'd ever want to see that person again, I had to start asking better questions. I had to go beneath the surface. I started asking questions about what their last big mistake was or their number one failure. I began to unlock conversations that turned these strangers into friends, and from there, occasionally, into potential love interests. Instead of talking about the usual things on a date, I got a lot more out of asking weird and unusual questions that made the other person think and made me understand them a whole lot better.
Accept That Dating Can Be An Adventure 
After many of these 14 dates, I came home and felt defeated. It was hard going on date after date with so many Mr. Wrongs. But the good part of being so committed to a 14-date experiment was that I wasn't going to give up, even though I wanted to. 
On each date, whether good or bad, I started to realize that dating is more straightforward than it seems. It's just two strangers, sitting down together for a little bit of time, getting to know one another, and making a decision whether they want to see the other person again. Weaved through it all are bizarre stories, strange comments, and awkward moments, like when the bill arrives, and nobody knows who should pay for what. It's an adventure, but a good one, even when the date doesn't go well. I began looking forward to first dates, excited to learn a new thing or two from a new person, even if they weren't the right person for me and my future.