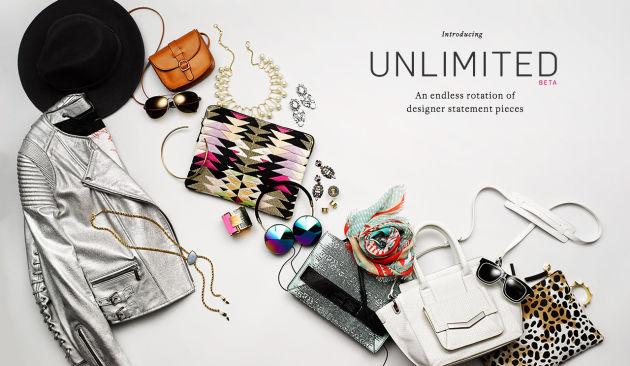 Are you drooling over that Moschino purse that's shaped like an order of McDonald's fries, but don't want to pay $865 for this flash-in-the-pan luxury? Well fickle fashion-lovers rejoice! The Netflix of fashion now exists!
The brain child of Rent The Runway—the genius ecommerce website that allows you to rent a special occasion dress for as low as $25—is introducing a subscription model, and it's such a good idea, we're actually surprised it hasn't been invented sooner.
It's called Rent The Runway Unlimited and it costs $75 a month. While normal Rent The Runway focuses on dressing customers for weddings, graduations, bridal showers and other special events, Unlimited allows subscribers to incorporate high-end fashion into their wardrobe everyday.
If you're a little grossed out by the idea of wearing a dress someone could potentially have worn everyday for three months, relax: None of Unlimited's product offering is anything that needs to be dry cleaned. It's all non-personal, sharable items like sunglasses, outerwear, jewelry and handbags, so it's not weird.
It works like this: You choose from over 1,000 designer pieces to create a queue (see where the Netflix comparisons come in?). For $75 a month, Unlimited sends you three pieces at a time and you can keep them for a long as you want. Once you get sick of an item, you send it back, and they send you another one. Done and done. Easy peasy.  
Yes, it's very similar to luxury handbag renter Bag, Borrow to Steal, but the fact that Unlimited lets you select multiple items at once makes it easier to build your own personal style on a budget. Take me for example: I'm your average James Perse tee, Current/Elliott jeans and Repettos ballet flats kind of girl, but with Unlimited, I can amp up my outfit with a Barbara Bui silver leather jacket, some Balenciaga sunglasses and an Edi Borgo bracelet—all items that I covet, but could never afford or even rationalize buying. 
No more surfing the Internet for Zara and H&M knock-offs of Tom Binns jewelry and Joseph's perfectly cut blazers. Just wear your Unlimited goods till you're sick of them, send them back . . . and wait for the next fashion surprise.