There is a lot on the Internet to read about the tragic Charleston shooting that took place late Wednesday night. Here are a few noteworthy tweets to get started with:
First up, we have some sage thoughts from Roxane Gay: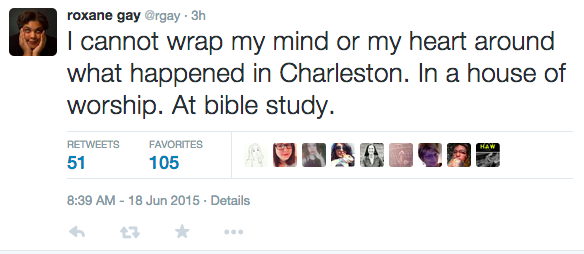 From Musa Okwonga:

From Kris:

A particularly mic-droppingly important tweet from Jessica Luther:

Commentary on the way media is discussing mental illness from Hanne Blank, Franchesca Ramsey, and Mikki Kendal:



And finally, one last piece of encouragement from Twitter's fairy godmother:

Some days are harder than others. Let's spend this one educating ourselves, having respectful dialogue, and remembering the innocent lives that have been lost.