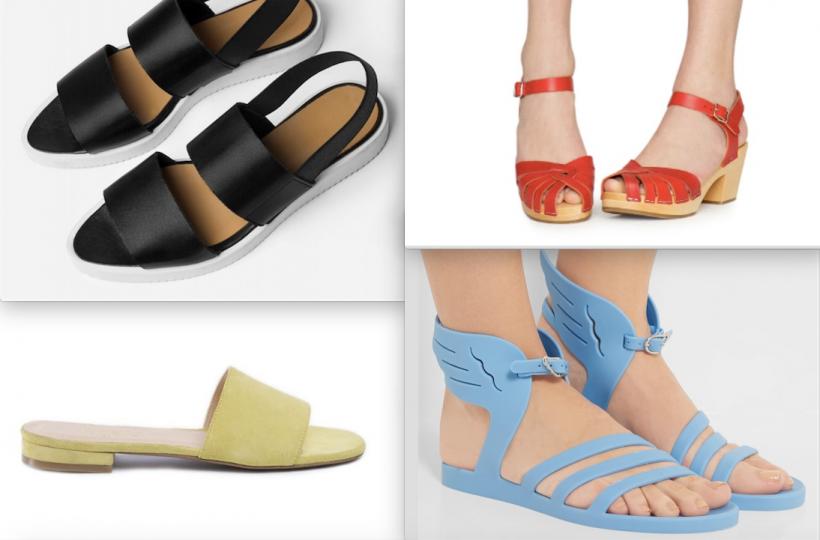 I have found that with age, I have become much more practical about what suits me and what doesn't, while still attempting to keep an open mind.
Subtle is so underrated sometimes.
In fashion, the mantra is "never say never."
Never claim that you'll never wear it, because that's the easiest way to end up eating your words, prancing about in a style you once referred to as "unsuitable."
I once claimed skinny jeans would never adorn my (rather shapely) hips — and I trust I don't need to explain to you now exactly how many pairs of skinny jeans now reside in my wardrobe (it's less than 20, promise!).
But I have found that with age, I have become much more practical about what suits me and what doesn't, while still attempting to keep an open mind.
As I slide deeper into my 30s, I definitely find myself winding down from heels. I will never not have at least one pair of heels in my wardrobe. I may never part with my Chanel black and gold cut-out wedges, but that doesn't mean I'm bringing in new heels to my wardrobe at the same rate I did in my 20s.
Let's be honest… Everything hurts just a little bit more lately. (Thank you, ballet… just kidding, ballet, I love you… and kind of hate you). Just like I hung up my pointe shoes recently, the impractical heels are seeing a lot less action.
If Grace Coddington, former creative director of American Vogue, doesn't feel the need to teeter about in impractical stilettos, neither will I.
When it comes to dressing myself I definitely look to what the iconic fashion editors I admire are wearing — and not every last one of them would qualify for major "street style star" status.
I like that, though. They still know what looks truly chic, all while sprinting from one show to another at breakneck pace.
Subtle is so underrated sometimes.
Without further ado, I bring you my favorite styles of shoes that maybe won't hurt your feet this summer:
1. The Street Sandal — Everlane, $120.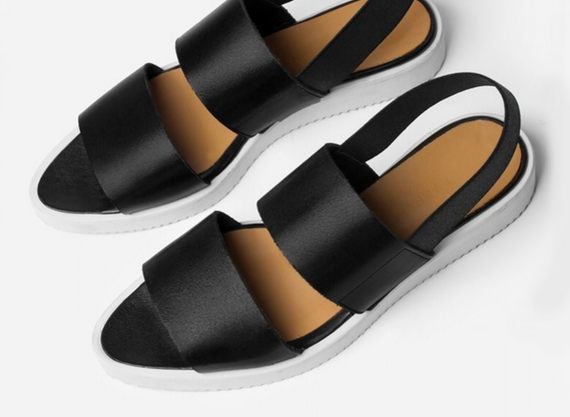 Utilitarian, minimalist, and guaranteed to go with almost anything you put on (ballgown notwithstanding… but if it's by Yohji Yamamoto, maybe), Everlane hits it out of the park with this sandal.
When I was 10, I had a pair of sandals identical to this style by Esprit (RIP, 90's Esprit), and they were the first pair of shoes I wore until they completely fell apart.
Be aware: In my experience, Everlane's sandals have run narrow on me.
2. Fredrica High Sandals (in Red) — Swedish Hasbeens, $229.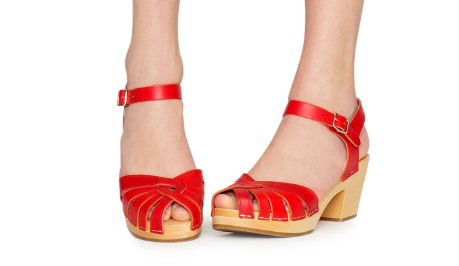 You want to know the best thing about having a Swedish best friend? She tells you the shoe trends YEARS in advance. (That, on top of being an awesome best friend!)
My bestie has owned a pair of Swedish Hasbeens for years. Their dominance in the market of comfortable, cute summer footwear is still unquestioned. The best thing, though, is that they're readily available from a variety of sources. If they're out of your price range new… buy them used (I have seen them on all of my favorite fashion resell websites).
But if you're going for new, their website is a bit of a fashion candy store!
Warning: Rainbow colors ahead!
3. Ibiza Gladiator Sandals, Etsy, $70.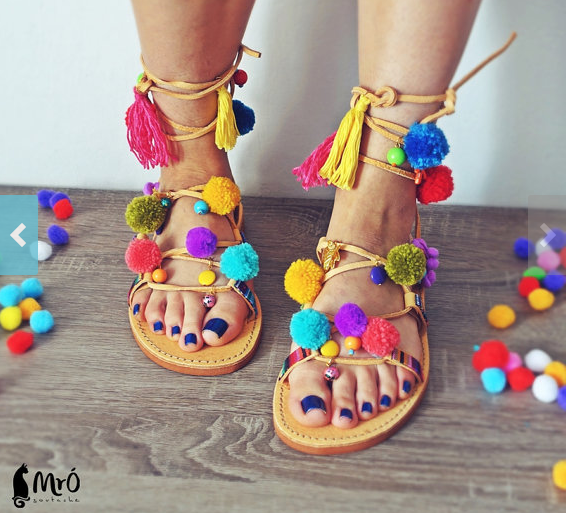 Full disclosure… the first time I saw a pom-pom sandal, I snarked on it in my head. But like so many things in fashion, it grew on me quickly.
It's whimsical, it's fun, and it's probably unlike anything else you have in your closet, which is the best reason to take a chance on something new.
Etsy has a large variety of them, which is great, because I love supporting the independent designer. Love these — and the price is manageable.
But if you're feeling crafty, I happen to know for a fact, there are countless tutorials out there to make your own. I'd love to see what you come up with.
4. Ikaria rubber wing sandals, Net-A-Porter, $125.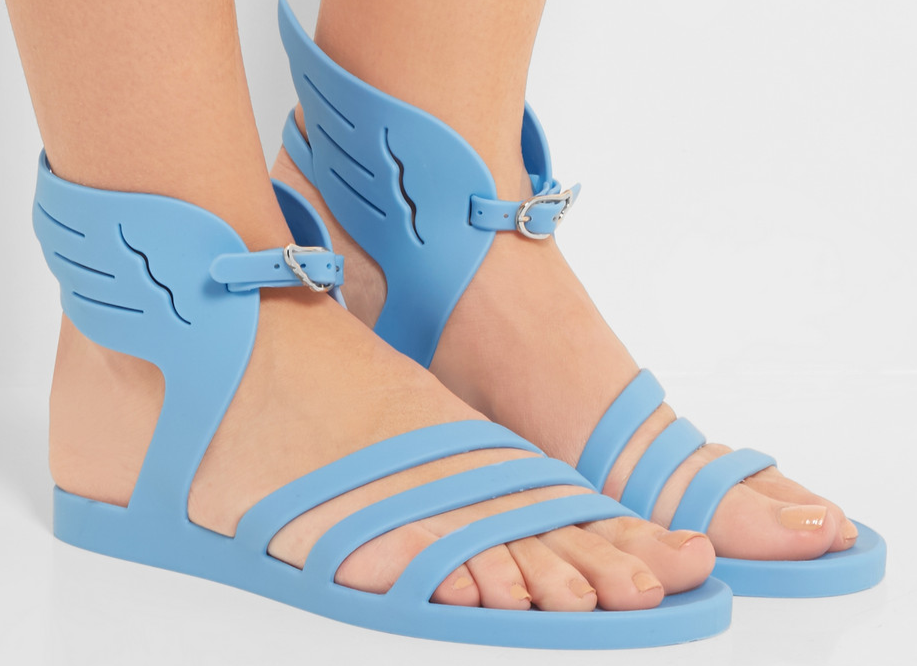 Did jellies ever really go away? Maybe for a few years after the 90s, but — lucky for you and me! — they've resurfaced.
While I recognize that they make some people's feet sweat something fierce, that happens to be one body gripe I don't have! Woohoo!
This pair is a bit more than the $5 we used to pay, but they are absolutely guaranteed to turn heads. Plus, they lighten your mood just looking at them!
5. Slide (Yellow), Marais, $168.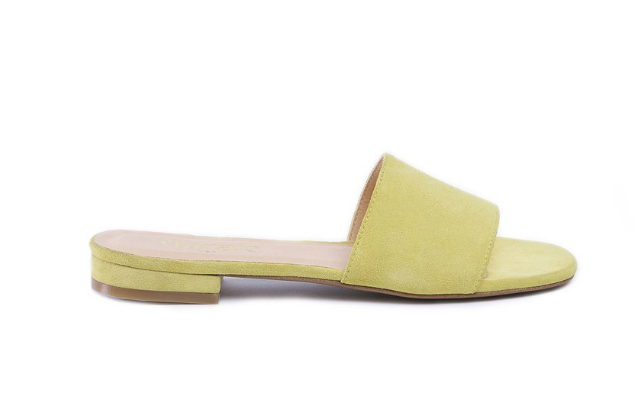 Slides are another style that have found their way from the 90s to 2016.
I don't own a pair myself, because they tend to run very narrow, and in my experience, I've always found them to run a little small. (I'm a size 10/EU 41.) But I like the look and the versatility of the shoe.
One day with jeans, the next day with a floral dress at an afternoon tea.
I'm all about shoes that do double duty in the wardrobe...
6. Birkenstock Gizeh EVA rubber sandals (assorted colors), Ebay, $24.95.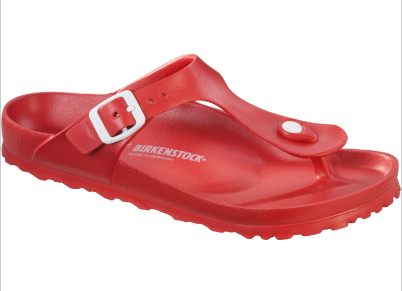 Lastly, if you're anything like me, Birkenstocks will possibly go out of style again, and you'll just keep wearing yours like you didn't get the memo. But they happen to be on many a fashion editor's foot right now, so we can pretend like we're just that hip (and not just fans of comfortable, practical footwear).
While I have several pairs of various materials, I actually really love the EVA ones. They're less costly than a leather pair, last for ages, do fine in the rain, and come in a variety of fun colors. (Bonus: you can also almost always find them at Nordstrom Rack).
I've had my white EVA Gizehs for two years and I intend on replacing them when they're really done. But they still look like new.
Winning!