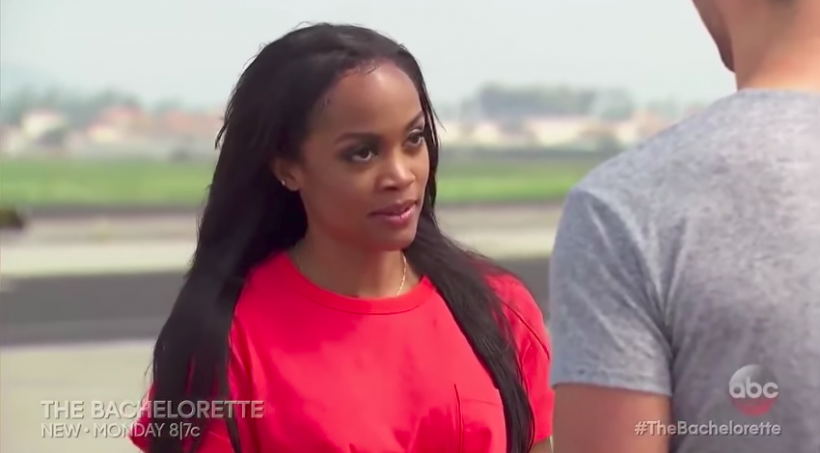 Rachel's face here is our faces watching this whole episode.
First things first: does anyone else wanna know how the dog broke its leg? Ok, the dog aside, we open this episode of The Bachelorette with images of beautiful Copper, Rachel's adorable rescue, frolicking on the estate.
Of course, it's not long before we're back in a room full of square-jawed hotties with names like Dean, Jack, Jake, and John, all sitting around in preparation for the show's first group date. Unfortunately, it's not even five minutes into the episode before we hear our first "Whaboom."
Rachel arrives ready to slay (as usual) in a cute fit-and-flare cutout dress with a sweetheart neckline and lace-up corset. "Whaboom" (aka Lucas) is his usual trash self, and it's driving Blake E. absolutely bonkers. Once again, Blake is on a mission to prove Whaboom has ulterior motives for being on the show. The audience is also starting to wonder whether or not Whaboom is really looking for true love when that thought is interrupted by a seemingly ageless Ashton Kutcher — and a slightly unrecognizable Mila Kunis — who show up to spice the episode up.
The two of them popping up feels pretty random, but as a pioneer of prank reality TV, it's a welcome bit of nostalgia to see Kutcher pop up. The Hollywood couple introduces the date game the boys will be playing, called the "Husband Material" challenge.
It's an elaborate set-up: changing babies, wearing Baby Bjorns, vacuum races... it's a lot of fun. And while we wait to find the champ America is falling in love with, Ashton Kutcher and Mila Kunis fall for each other all over again.
Ashton makes the prediction that Rachel's dude is not in this group, and I definitely agree… especially with Whaboom hanging around. Blake E. starts to seem obsessed with Lucas, though. And apparently they have some sort of history together. Of course, I also hate WHABOOM soooo much.
Who wears a gray plaid blazer with a pistachio buttondown and matching pocket square?
Dean shows up and is wooing and wowing Rachel with his Colgate grin and adorable dimples. She's so impressed with him, and so were we, until she reminds us that he's the douchebag who said, "I'm ready to go black, and I'm never going back." Immediate boner shrinker. But that wasn't the most cringe-worthy part! Rachel is totally into this fetishizing super freak. She seems to be really impressed with his energy, but it's probably because he's basically still an infant at the ripe age of 25.
(Oh no baby! what is you doin?)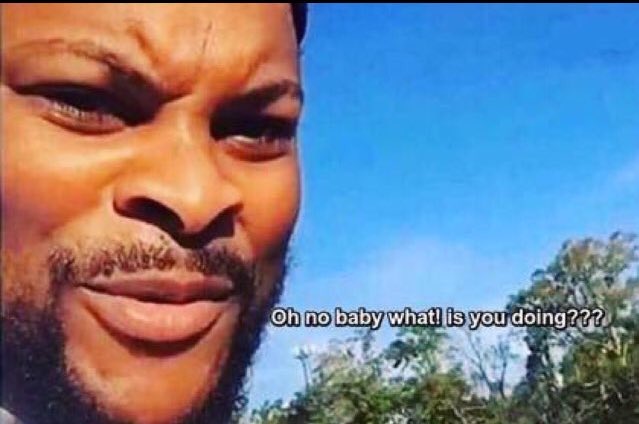 We cut away from this trainwreck date that Rachel seems to be loving to watch Whaboom and Blake's conversation begin to escalate. The camera pans to Kenny swallowing hard from the tension. But during confessional, we find out that Kenny knows what the rest of us know: white men can get crazy. And he keeps it real for the cameras. Rachel seems unimpressed during their time together, but it's probably because he talks about his daughter too much. No shade.
After these dates, we get some one-on-one time with Peter and Rachel on an airplane tarmac for their date. Rachel begins to introduce a special guest who will be arriving in a limo. I clutched my chest at what seemed to be an ableist introduction when Rachel braced us, saying that a friend who had been in an terrible accident would be arriving. I feared the network would use someone as a prop. But to all of our relief, it's her dog. We finally find out what happened to Copper, kinda: he hobbles out of the back of the limo with a fluorescent doggy cast, and really becomes the most important part of the show.
Copper, Peter, and Rachel board the private jet en route to Barkfest, which is basically Coachella for dogs. Amidst all of this Copper cuteness, it's impossible to ignore the sparks that are flying between these two. I think we all collectively swooned when Peter proclaimed he was going to make a great dad…to the dog. Then the two have a conversation about what could have been the elephant in the room: both have gap teeth, and it's strangely endearing. Peter is talking about being a dad again and mentions that their kids would have gap teeth, and it shows he's thinking about the future.
After the Dean date, I was feeling salty towards Rachel, but she began to redeem herself in my eyes when she started speaking about accepting her flaws and building character by keeping her gap tooth, which may be considered outside the margins of conventional beauty.
Rachel then takes an even better turn when she sheds light on the stigma bound and tied to Black women regarding seeking professional help for our mental health. She admits to visiting a therapist when she couldn't figure out why her long-term relationship wasn't working. Even though we don't get into any specifics, we see Peter being supportive, and Rachel admits that going into therapy was, "The best decision that I made the entire year," preparing her to realize what she really wanted for herself, and what wasn't working. Peter is so understanding and accepting that it earns him a rose that will allow him to skip to the next round.
The last group date is a basketball date, for which there seems to be a disproportionate number of black contestants selected. This is when we roll out a Z-list celebrity: for some reason, Kareem Abdul Jabbar shows up (they must've exhausted the celebrity budget with that Mila Kunis and Ashton Kutcher cameo). Then again, I doubt Lebron would be caught dead on this show.
Cue Demario endlessly dunking from a variety of angles. In the final reel, it's a showdown between all the Bachelors. They all seem to lack athletic ability except DeMario. Dashing effortlessly across the court that says "Bachelor Nation," he loses the round but seems to win Rachel's heart. Then we see a white woman show up and more tea is spilled: DeMario has a whole-ass girlfriend. But to really add insult to injury she walks him out, and everyone thinks he's getting a rose. This basic white girl shows up, and he asks "Who's this?" on sight.
This shit is soooo fake, but I legit lost my damn mind watching all the drama unfold. DeMario is stuttering through whether or not he still has a relationship with this woman. We all know he lyin'. The audience thinks he might get away with it until this chick busts out receipts of the text messages they exchanged a week before he left to be a contestant on the show.
Shit gets wild. Rachel pops all the way off; I'm talking a complete drag. Her frustration soon turned to tears as she storms off the stage, right after sending DeMario's lying ass home.
A couple of guys rush to console her at the next mixer. More kisses are swapped. There's Josiah and sloppy Bryan, and the dust begins to settle before the final rose ceremony.
Dust gets kicked back up when DeMario returns. Host Chris Harrison greets him outside as he pleads for a second chance, and tells him and the audience that it will be entirely up to Rachel. This is horrifying. The show's producers probably thought this scene would make for good TV, but they actually hit the nail on the head when it comes to Black men, toxic masculinity, and their fragile, bruised egos when they have to face rejection from Black women. The suspense is unbearable, and I am shrieking in my husband's ear and texting all my girls that she better not take him back. Right then, the entire Bachelor squad rolls outside to watch the drama with the rest of us, but right before we find out what happens next, the episode fades to black, and we're left with just the bold, white words, "To Be Continued."
Well played, The Bachelorette. Well played.