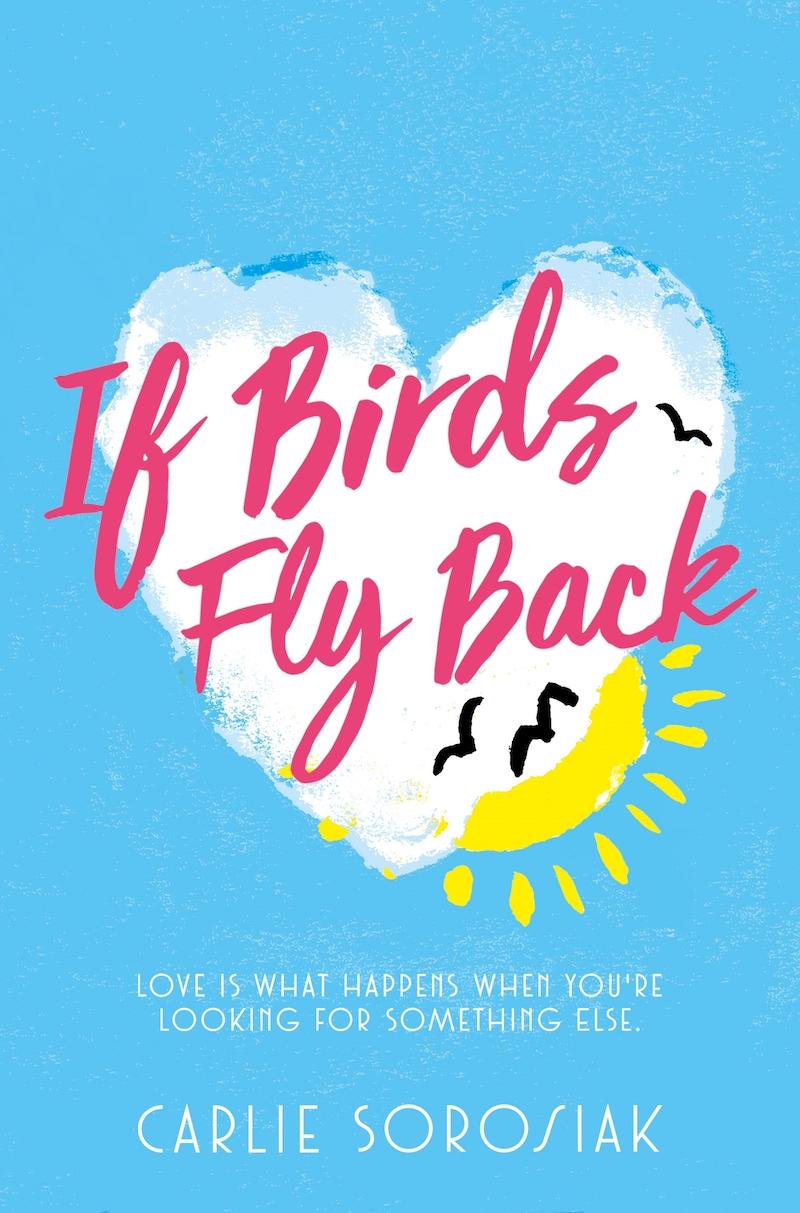 Carlie Sorosiak, the author of the June release If Birds Fly Back, has been on my personal radar since she critiqued my query letter (gently, yet critically, as one should) last year as I was prepping to enter a contest.
She's been on other people's radar since her debut young adult novel was announced, receiving praise from the likes of Jeff Zentner (who compared her to YA greats like Rainbow Rowell and Nicola Yoon), as well as School Library Journal and Booklist.
Carlie's debut is a sweet story about two teenagers who find love and hope in the midst of an eventful summer punctuated by a return from the (presumed) dead, a missing family member, and friend drama. It's clever and quirky in the way it's written, and there's a lot about astrophysics and families that aren't perfect but are trying their best to be good enough. It's sweet and one of those books that will have you clutching your chest in distress when things go bad and crying tears of joy when they go right.
It's adorable, and I was so excited to get a chance to talk with Carlie about this book and the many, many reasons it matters to her.
Why are you passionate about this book? 
If Birds Fly Back is the book that I desperately needed at 16. It's sweet and fun — but it also explores issues ranging from unwanted familial expectations to grief and loneliness. And I love a good love story!
Was there ever a moment you felt completely lost and thought of giving up on writing this book or getting it published? What helped you push through?
Oh, absolutely. Hundreds of times. I think that, like most or all writers, I'm plagued with self-doubt. It was my mother who pushed me through If Birds Fly Back. She's read everything I've ever written — and sometimes it only takes one enthusiastic person who can tell you: You've got this. Just keep going.
I am tearing up at your mention of partially writing the book for your mother to "see herself in a book." Can you chat a little about how important it is for teens to see themselves represented? How do you feel you are uniquely situated to write diversely?
I'm so glad that you asked this question! I come from a multiracial family, and my mom — who is African American and Swedish American — absolutely loves books. But growing up, she [saw] herself in very, very few; that was particularly difficult because hers was one of the only multiracial families in her white, Connecticut town. So really, she didn't feel like she fit in anywhere. When I wrote Linny in If Birds Fly Back, my mom's story was in the forefront of my mind. I wanted to show that representation matters — that families like mine are valued. And I wanted my mom to be able to hold If Birds Fly Back in her hands and see the beautiful girl on the cover, who looks a lot like her as a teen.
Do you think anyone ever "ages out" of needing to see themselves represented?
No, because representation has a lasting impact. And for too long, publishing has favored certain stories over others. I was actually talking about this with my mom last night, and her response was that it's a much bigger issue: representing a wider array of experiences builds empathy, and considering the way things are going in America, we need all the empathy we can get.
What are your thoughts on YA read by adults — aka are you ever too old for YA?
I think that you're never too old to read about hope, love, and redemption. I know for sure that I'll still be reading YA a long time from now. 
---
Related