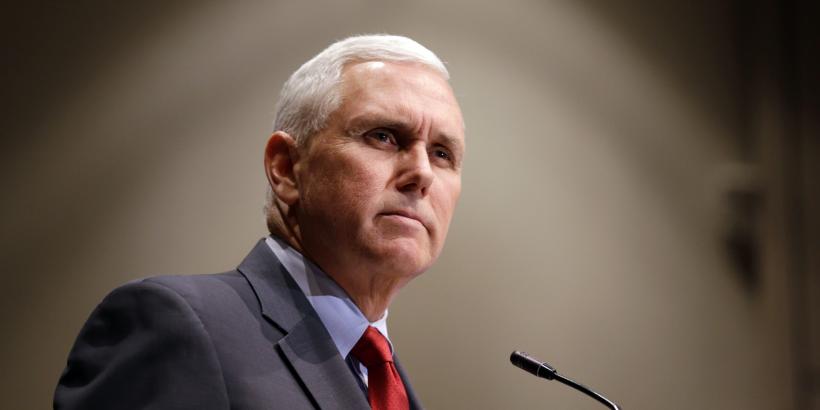 "What do we know about the potential second-in-command?"
In the 60 Minutes interview with Donald Trump and Mike Pence, attempts by correspondent Lesley Stahl to get insights into Pence were noticeably futile.
Pence sat and smiled tensely as Trump stole the show. When Pence got in a full sentence, his comment on Trump was, "I believe he'll be a great President of the United States."
Ok. But what do we know about the potential second-in-command?
When Republican colleagues are queried, the general response is, "He's a man of great faith."
How does that pan out in terms of his record in the US Congress (2000-2012) and as Indiana Governor (2013-2016)? Well, if you are not within his particular spectrum of religious beliefs, it's not good news.
Pence has brought national attention to his state of Indiana because of his extreme views on abortion, as well as his perspective on the civil rights of those in the LGBT community. His goals for "affirming the value of all human life" appear to be selective.
Pence has quite a history on women's reproductive rights, dating back to 2007. At that time, Pence fought to grant embryos in the womb "equal protection under the 14th Amendment." It was also the year he began his ongoing mission to defund Planned Parenthood. In 2010, he voted to prohibit funding for abortion under federal Obamacare plans.
When Pence became Governor, his opposition to abortion rights reached an unprecedented level. Indiana made headlines for the punitive legislation of House Bill 1337. It banned women from getting abortions when their fetus had genetic abnormalities, among other restrictions.
Upon authorizing, Pence emphasized, "I sign this legislation with a prayer that God would continue to bless these precious children, mothers and families." Even pro-life Republican elected officials disparaged the bill.
Women refused to accept his actions without pushback, launching the Twitter handle @PeriodsforPence. It's getting renewed traction during the Republican Convention.
Pence's efforts to obliterate Planned Parenthood led to almost a 50-percent reduction in their state funding in 2014, equaling the 2005 dollar level. Five of their rural clinics closed. Scott County, a which had had a facility that did not perform abortions but provided STD testing, became home to an HIV epidemic.
Dawn Laguens of Planned Parenthood told me:
Mike Pence has been on a one-man crusade against Planned Parenthood and access to reproductive health care for nearly a decade.
He introduced six different measures to block access to basic health care while in Congress, and was willing to shut down the Government rather than allow women and men to get basic health care at Planned Parenthood. As Governor, he signed into law one of the most restrictive abortion laws in the country.
This is the nightmare the Trump-Pence ticket is offering: To unite their party against women.
As far as other issues, Pence:
Voted against barring job discrimination based on sexual orientation.
Voted for a constitutional amendment banning same-sex marriage.
Opposed federal funding for AIDS treatment.
Signed the "religious freedom" bill giving businesses a "License to Discriminate" by refusing service to LGBT customers.
Oh — did I mention he's a climate denier?