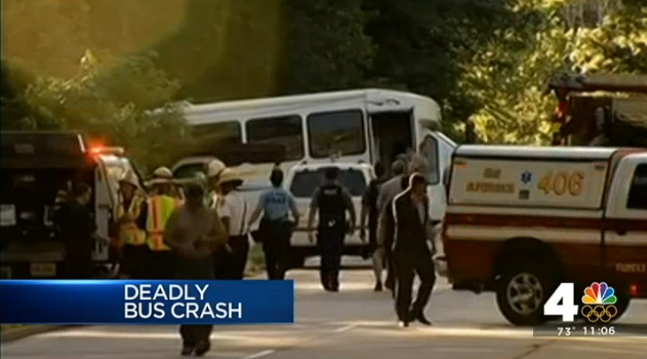 There are heroes among us, and we would like them to come forward!
The NBC affiliate in DC is reporting that police in Virginia are hoping to find the identities of a group of people — many of them thought to be military personnel — who helped rescue people trapped after a bus crash.
A 15 passenger tour bus was leaving the area of George Washington's Mt. Vernon yesterday evening when it collided with a car going the opposite direction. The car ended up in the woods alongside the road, while the bus rolled over and slid off the highway.
Before EMS could get to the scene, about a dozen people lifted the bus up and got all the passengers out to administer aid. Sadly, one passenger died, but the rest were taken to a nearby hospital to be treated. Two are listed in critical condition, but the rest are fine.
Meanwhile, police are asking for information about the freakin' superheroes who got the bus passengers out safely! Apparently, they didn't stick around. They just lifted the bus, helped the people and…left. They seem to have said, "My work here is done!" and swirled their capes and flew off.
Whoa.
Police are asking witnesses to the crash including anyone who "participated in the heroic act of lifting the bus," to call 202-610-7500.