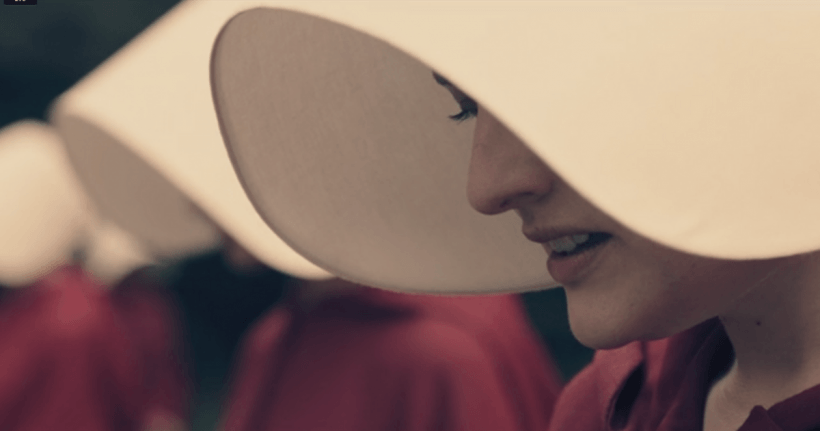 "I
 was 
hanged
 for 
living 
alone
for 
having
 blue 
eyes 
and
 a
 sunburned 
skin,
tattered 
skirts,
 few 
buttons, a 
weedy 
farm 
in 
my 
own 
name,
and
 a 
surefire 
cure 
for 
warts;
Oh
 yes, 
and 
breasts,
and
 a 
sweet 
pear 
hidden
 in 
my 
body.
Whenever 
there's 
talk 
of 
demons
these
 come 
in 
handy."
This passage is from the beginning of the poem "Half-Hanged Mary" by Margaret Atwood. Readers of her famous book The Handmaid's Tale may have noticed the dedication included the name Mary Webster, but the story behind the dedication is a case of the truth being stranger than fiction.
Growing up, Atwood heard stories from her grandmother about Mary Webster, a colonial woman who was hanged in Hadley, Massachusetts in 1685 for witchcraft, several years before the infamous Salem witch trials began in 1692. Atwood's grandmother often referred to Webster as a relative, though she sometimes denied it, and her ancestry can't be definitively proven one way or the other. Through an unusual turn of events, Mary Webster would go on to inspire her descendant's book The Handmaid's Tale 200 years later, as well as the Emmy-winning adaptation on Hulu.
But Mary Webster was no ordinary witch. She may have been hanged for witchcraft, but that didn't end her life. In fact, she lived another 14 years.
The tale captivated Atwood, who researched her possible (probable?) ancestor and eventually wrote the poem chronicling Mary's long night hanging alone. The poem explores themes that would become essential to both the book and show The Handmaid's Tale, enforcing limitations on independent women, policing women's bodies, and the way that a crowd can be cowed into silence. Mary even remembers how she once helped a woman in the crowd with an abortion. In that time, it was a life-saving procedure — not for medical reasons, but because the woman in question was not married to the man who impregnated her, a topic all too familiar to fans of HMT.
It should come as no surprise, then, that Margaret Atwood chose to dedicate this particular book to this particular ancestor. The writer sees Webster as an inspiration: "The Handmaid's Tale is dedicated to Mary Webster because she is an example of a female person wrongly accused." In a way, all of the women of Gilead are wrongly accused. Atwood also says, "She is slightly a symbol of hope because they didn't actually manage to kill her. She made it through," which calls to mind the more defiant tone of Hulu's adaptation.
There's something gloriously revolutionary about a woman choosing to live in utter defiance of society, even if the Mary of the poem is fictionalized.
In the poem, we see Mary again after the hanging incident, and she is a changed woman. "Having 
been 
hanged 
for
 something I 
never 
said, I
 can
 now
 say
 anything 
I
 can
 say," Mary says in the poem, calling to mind Moira's defiance, and, later on, the defiance we see from the June of the small screen adaptation. Having been accused and punished for a crime she did not commit, she talks of, "mumbling
 to 
myself 
like 
crazy, mouth 
full 
of 
juicy
 adjectives and
 purple 
berries," and says that, "The 
townfolk 
dive 
headfirst 
into 
the 
bushes to 
get
 out 
of 
my
 way." There's something gloriously revolutionary about a woman choosing to live in utter defiance of society, even if the Mary of the poem is fictionalized.
Mary Webster's story is unusual in that she survived the fervor that made gossip and misogyny deadly for so many New England women, but it's not the only Puritan influence on The Handmaid's Tale. Many don't recognize it right away, but HMT is actually set in and around Cambridge, Massachusetts. The liberal enclave might seem like an unusual choice for a conservative uprising, particularly one written by a Canadian writer.
Atwood studied at Radcliffe for her Master's, and so was quite familiar with the area. As has been widely discussed, it was important to Atwood that everything in HMT had actually taken place at some point. Atwood had studied the area's early history under Harvard scholar Perry Miller, the other half of The Handmaid's Tale dedication. As Atwood once said, "You often hear in North America, 'It can't happen here,' but it happened quite early on. The Puritans banished people who didn't agree with them, so we would be rather smug to assume that the seeds are not there. That's why I set the book in Cambridge.''
The self-righteous blue state that was once home to one of our nation's greatest acts of malice and hysteria was the perfect setting for Atwood's dystopian tale with Puritan roots precisely because of that contradiction, not in spite of it.
The Puritan way of life permeates the look and feel of The Handmaid's Tale — Ane Crabtree's Emmy-nominated costumes are clearly evocative of the time period, and when reading the book it's easy to forget that the story is meant to be contemporary or in the near-future. The Salvaging or Particicution — so named because it is an execution in which the handmaids are all coerced into participating — is a clear attempt to resurrect the societal pressure of witch trials. Much like Mary Webber's neighbors who gathered to watch and didn't dare help for fear of being painted with the same brush, the handmaids must pick up stones and participate, lest they find themselves in the circle.
Luckily for us, the end of the first season left us with some of the same defiant hopefulness that Mary Webber was made of.
The handmaids exploited a key difference between themselves and the New England townsfolk of the 1600s: they are all witches, and they are not alone. 
---
Related