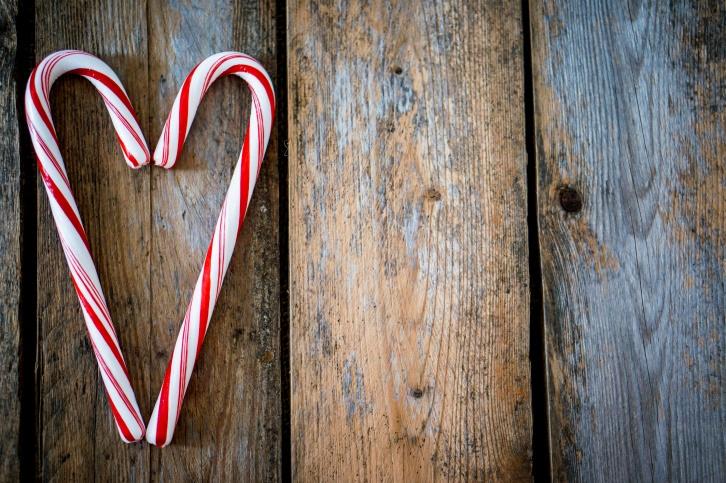 Credit: Thinkstock
No, it's not the presents.  It's all the little things—sweet, goofy, endearing—that make me feel so happy I chose this particular dude to be my partner in doing this whole life and love thing. So here, in no particular order, are the top 10 things that make me love spending the holidays with my husband:
***
1. He always wants to buy the loneliest Christmas tree on the lot.
Yes, we have a tiny house that is already way too full with three dogs, two kids, a lizard and the messes he and I are really good at making. But that's not why he always tries to buy the littlest, saddest, most pathetic Christmas tree on the lot. It's that he likes that tree. He likes the ones with the gaping holes on one side, or only about ten total branches.  This is part of my husband being one of the sweetest guys you'll ever meet. It's very Charlie Brown. I guess that makes me Snoopy, but I think that fits.
2. Late-night sales at the toy store make for really fun dates.
My husband loves to shop. More than I do, if we're being honest. The last few years we've taken the opportunity of a big sale that starts at 9pm at a big toy store near us to have my mom stay with our sleeping kids so we can go out alone together to be swarmed by other parents and grandparents frantically vying for the newest Lego or Littlest Pet Shop toy.
Sounds awful, I know, but that one day of the year we don't mind. It's exciting. We're in it together. We WILL find that Playmobil pirate ship and we WILL prevail. Then we get tea lattes at Starbucks and drive home thinking about how fun Christmas morning will be.
3. Dressing up for holiday parties.
My daily attire consists of jeans and tee shirts with either boots or flip flops (depending on the time of year) and that pretty much never changes. But when it comes to going to our friends' holiday parties, I love to shock people by wearing a fancy dress, heels and a face full of make-up.
Similarly, Ivan is a board shorts and tee shirt guy when he's not at work, so when we show up and he's in a suit and tie and I'm all fancy, it's fun to surprise everyone together. And I like showing off my handsome guy.
4. Watching Arthur Christmas with the kids.
If you haven't seen Arthur Christmas, an incredible animated feature about three generations of men in the Santa Claus family battling it out to become the most important Santa in history, you need to do yourself a favor and watch it immediately. It's charming, fun, well-written, well-voiced and has awesome details like elves that deliver each present with high-tech gadgets and gears, like they're out of Mission Impossible. In many ways, it's a total guy movie, but I promise you'll tear up (in a good way) at the end.
It's one of those animated films that our kids have liked for a few years running, even as they get older, and we enjoy it as much as they do.
5. Watching Scrooged without the kids.
This late-80s horror movie-inspired holiday tale is awesome. This year I tried to watch it with the kids because they are getting older and I thought they could handle it.
They could not.
It is terrifying, but I forget that every year because it's so heartwarming and really happy—and it's about Christmas.
One thing Ivan and I have always had in common is our love for great TV and movies. So snuggling in bed and watching Scrooged is total bliss for us. Another good holiday movie to watch together is Love Actually.
6. Sneaking around to find the specific weird thing he wants but doesn't know I know he wants.
That was a confusing sentence, but what I mean is this: There's always something he wants, maybe he mentions it off-hand or tells his brother, and he doesn't know I'm paying attention. Then I go on a hunt to find it. Last year I drove 40 miles to get him a pair of bike shoes for his mountain bike. This year… well, you'll just have to stay tuned… but the hunt is what makes Christmas special.
7. Knowing that he'd rather be inside on the couch with me than getting drunk on New Year's Eve.
I'm not judging what anyone else does on New Year's Eve (as long as you're not driving or being reckless), but I love keeping it mellow, and I'm so glad Ivan feels the same way. Dinner with friends who also have kids, watching the East Coast ball drop at 9pm, and then snuggling up on the couch alone after the kids go to bed to read or watch TV is my New Year's dream.
8. Shooting down his intense need to buy more more more and more presents for the kids.
On December 23rd, we assess what we've collected for the kids to make sure they're balanced and every year Ivan declares that it's just not enough and goes on a campaign to buy even more presents.
This can be annoying, but it's part of who he is. He's intensely generous as a person. Combine that with the fact that the man loves to shop, and you have a combustible situation of excess present-buying!
So every year, like clockwork, Ivan says, "I think we need more" and I say, "I think what we have is fine" and then he usually buys more, but not as many as he would have if left to his own devices.
9. Playing Santa after the kids go to bed on Christmas Eve.
What's more special than sneaking around wrapping gifts, stuffing stockings and hanging candy canes on the tree? Nothing. It's one of the greatest gifts that comes with being a parent, if you're from a family that celebrates Christmas, and it doesn't last forever. Kids are only little for a short window of time, so you know you're part of something sacred and rare when it's happening. On top of that, we always do a lot of cooking for Christmas Eve dinner, and there's always a lot of good food to nibble at while we prepare.
10. Christmas Day hike or bike ride.
Our family tradition is to make everyone leave their chocolate comas and piles of toys and go for a Christmas Day hike or bike ride. The reason this makes me even more crazy about my husband is that not everyone would go along with these types of shenanigans on a major holiday, but this is the sort of thing we love. Our hot dates alone are usually on our mountain bikes or in the ocean, so it makes sense that on the best day of the year for our family, we'd all be outside.
***
It's amazing how much you grow with someone you're with for a long time. When we first met, our weird traditions and cultural histories collided. We didn't know how much money to spend, things felt unbalanced, or one side of the family felt neglected. At times we both tried to appease one another and ended up resentful. Holidays can be really tough for couples, and we are no exception. But over time, with compromise and friendship, we've evolved a set of holiday traditions that feel uniquely "us" and that remind us how lucky we are to have one another.
This story first appeared at The Good Men Project. More from our partner:
10 Ways to Have a Life After the Holidays
3 Tips to Avoid Holiday Family Squabbles
5 Things I Had to Learn In Order to Love My Nice Guy