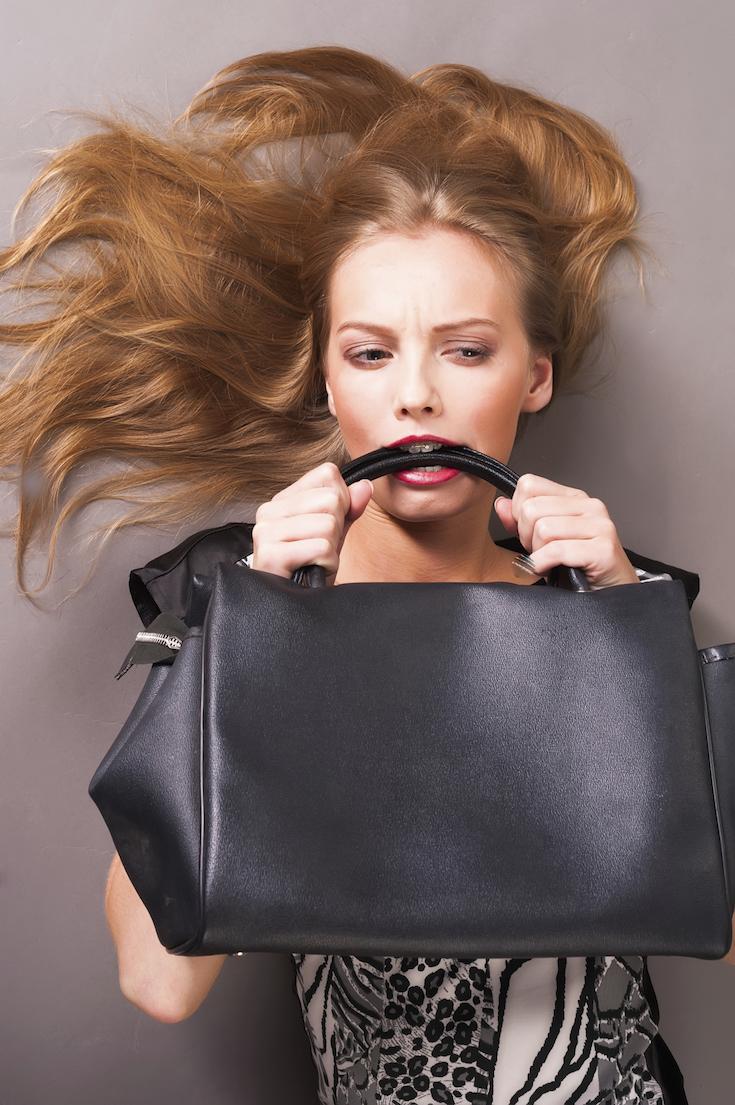 Ouch. Your neck hurts. Your shoulder throbs. Girl, it might be your handbag. It may be too heavy. Big bags can be a source of jokes, but also a source of pain. Is yours hurting you?
Women love their handbags. Call it a handbag, purse, clutch, pocketbook, or shoulder bag. Whatever it's called, too much weight risks injury. It can injure your shoulders, neck, and back.
I had an accident, resulting in four neck surgeries. The first failed, which led to a second one. The third repaired a disc; titanium plates were inserted during the fourth. Don't feel sorry for me. I'm fine. I know my limits. I now observe better handbag health.
My doctor warned me about heavy purses. Let's face it. We all have love-hate relationships with our handbags. We carry everything we need, everything we think we might need, and everything our family members might need. Just in case. That's troublesome.
My doctor said that added weight causes unnecessary compression in the shoulder and neck region, resulting in headaches, neck pain, and shoulder discomfort. This puts excess weight on muscles, tendons, and joints. Repetitious weight can cause trauma to the discs, he warned me. If I didn't heed his advice, I could do further damage. I cringed. I vowed to reduce the weight of my purse. But not carry one? Never. I was too attached. It's like an extra appendage. You would have to cut it off to force me not to carry it.
He had my attention and suggested some adjustments. If it had shoulder straps, I could switch back and forth between shoulders, preventing one shoulder from receiving the continuous brunt of weight. I could also carry it in one hand, shifting hands occasionally. And don't be an elbow carrier; carrying it in the crease can stress the elbow joint. Another suggestion was to wear it over my head, centered in front of my body to balance the weight. Think of it as being a trendsetter.
While trying to avoid future risk, I've shuffled between handbag styles and sizes. Here's what I've learned:
1. A smaller purse holds less. This is a no-brainer. Choose light fabrics.
2. Carry a strapless clutch, which is small and forces you to hold it in your hand.
3. A fanny pack is great for long days at the amusement park or strolling around town. Strap it on. It's large enough to hold keys, a phone, money, a driver's license, and lipstick. Bonus: It's harder for a thief to grab. They come in different styles and fabrics. Even Sarah Jessica Parker was spotted wearing one recently. If she's wearing one, they must be trendy. They were also spotted on some fashion runways in 2014. Awesome.
4. A backpack can't replace an elegant handbag, but is a good choice for better health. Wearing a backpack redistributes weight more evenly, reducing the negative impact of additional weight. The kids won't be too embarrassed. Just don't overstuff them; you will negate the positive impact.
5.  Don't replace your purse with a duffel bag, beach bag, or briefcase. These get heavy when crammed full.
6. Put your purse through a good spring-cleaning; prioritize your necessities.
8. When possible, leave your purse in the car and put what you need in your pockets. My husband often carries my lipstick and phone. Here's a tip: without your purse, you can't pay. Hint. Hint. Wink. Wink.
I now carry a medium-size Coach bag. Don't judge me; it was a gift from my daughter. I keep it in my vehicle whenever possible. I grab what I need, or ask my husband to carry it. I know it's there if I need it; when I do, the walk to the car burns more calories. Win-win. 
My handbag routine is working. I haven't had any additional neck problems. If you have neck or shoulder pain, purge your purse contents. If you don't get relief, seek medical attention. If your doctor asks about your handbag, tell her it's on a diet.