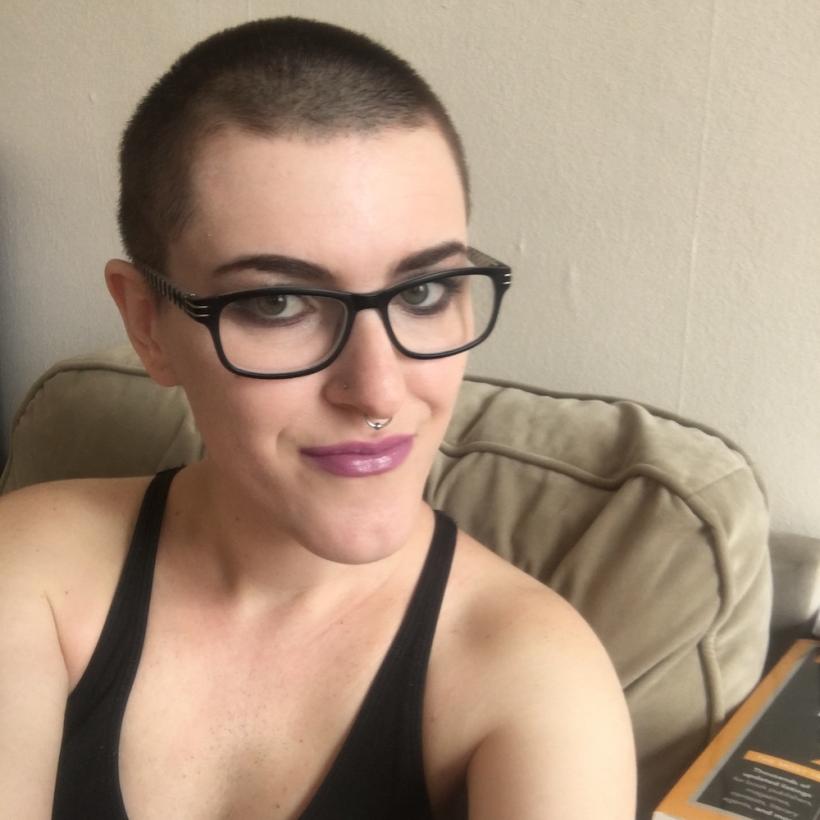 My hair is gone. My make-up is strong.

This was me five years ago
My hair, as it often was in those days, was up in a "ballerina bun." Contrary to many of my peers, I didn't go for ombre strands, but left them natural or box-dyed red. I wanted a smooth look that showed off my face, something that hid my abundance of inherited Italian brunette. Except, that is, when I went to work; Applebee's guys don't tip girls with slicked-back hair. 
Fashion in those days was all over the map — just not mine. Instead of embracing colorful skinny jeans, I adored the wide-leg pants in Vogue and kept my skinnies dark. I loved the tuxedo jacket trend, but opted instead for oversized blazers (preferably with shoulder pads). And I simply couldn't understand the daintiness of peplum on shirts or skirts.
I was embracing a vintage-hipster-androgynous hodge-podge. My short-shorts and heels cried out for male attention, while my menswear held a middle finger aloft. I was desperate to show I was different, but I was more obsessed with defining myself by what I wasn't, rather than what I was.
This was me four years ago. 
After I cheated on the man I was dating, I couldn't dampen my sexuality fast enough. I threw away most of my wardrobe and embraced menswear — literally (in this case, I'm wearing my significant other's shirt). 
This was the basis of my wardrobe for months, if not years. I wore his sweaters, his button-downs, his t-shirts, his pants. At work, I stuck to clothes my mother sent me, including frumpy pleated pants that did nothing for my figure. 
I loved the platform sneaker trend, but never bought a pair. (P)leather clothes spoke to my love of edginess, but I didn't so much as try them on. High-waisted skinnies appealed to me, but not to my significant other, so I nixed that idea. And midriff-baring shirts? In my mind, that would be akin to me "asking for it." 
I was so caught up in trying to downplay my looks, I rarely made an effort to look good. The only things I did keep up with were fake nails, haircuts, and make-up. I could justify the first two as self-care and the third as not looking poorly in public. Those were the limits of my comfort zone and it didn't much matter that I rarely felt like myself.
The girl of a year ago wouldn't have recognized herself. 
This was me three years ago.
I got engaged, grew my hair longer, became obsessed with Instagramming my new nails, and I started to get my eyebrows done. I had fully embraced the femme, but only because I felt safe within the confines of impending marital bliss. 
I didn't follow trends like jumpsuits, ponchos, overalls, or denim-on-denim (even though I loved them all), but I didn't reject them, either. Instead, I hid behind pieces from high school and some "adult-ish" pieces from the outlet mall. I wore my fiancé's clothes like armor and a badge of honor: I've been chosen. 
I wanted so badly to be worthy of the man I loved — to be a grown-up, to look mature, to give myself glamour— that I didn't think much about who the real me looked like. Years were wasted in costumes, neither trendy nor desexualized, but costumes nonetheless. 
 This was me two years ago, on my wedding day. 
I grew my hair for nine months. As far back as I can remember, my mother urged me to "add a few highlights." My hairdresser, twirling her chair so I could see myself, would agree. But no product touched my hair until I was 20. I always leaned toward ginger tints, but since my husband-to-be preferred blonde, that's the direction I took.
I picked my wedding dress, jewelry, flowers, and up-do with the advice of my fiancé. I never wanted a gown, to look like a princess, to have a regular wedding, and at the time, I felt gorgeous. Now, I look at the memorials of my wedding and see nothing of myself — I don't look like me, just me painted the blandest of beige. 
All I see in these pictures is strain, especially in my smile and in my eyes.  
This was me a year ago. 
After the honeymoon (and especially after the separation), I chopped a year's worth of growth off into a pixie that, over time, I trimmed into a bob. The inches I had cultivated over months may have suited my face, but they didn't suit the way I viewed myself. 
When I was eight years old and saw that dramatic bobs were the latest in women's style, I eschewed the long locks of my classmates for a chin-length drape of hair that covered half my face (at least in my third-grade class picture). If I'd been in high school instead of elementary, I would have been trendy. Instead, I was an oddity of a little girl — at least to others. 
As an adult, a short cut was well within the realm of the acceptable, and yet the girls who got the most attention, the girls who got second and third glances, the girls given heftier tips than me at the pub where I worked — they all had long hair. 
I may have missed the tips, but I didn't miss the hair. Instead I relished in bobs, mild undercuts, my new piercings (nose and belly) and a visible tattoo on my tricep. I felt strong. Unique. Desirable in my own skin (and follicles). 
This is me now.
My hair is gone. My make-up is strong. I'm sitting in a sports-bra, which often doubles as a top, at least under my skinny-jean overalls. I've pierced my septum. My left wrist sports another tattoo. 
It's the closest I've ever felt to "myself" and yet there is still so much to learn. Without my hair to hide behind, my eyes, lips, and cheekbones scream for attention, but half my wardrobe looks strange on this new woman. 
Before the clippers, I dressed androgynously. Now, I have to femme myself up or else risk looking more butch than I'm comfortable with. As a queer woman, I'm thrilled by the looks I get from women, but looks from men don't frighten or phase me anymore. I don't feel like I have to censor myself, dull my shine, or damper my sexuality. 
I can feel proud of my cleavage and my combat boots. I feel fierce in drop-crotch sweatpants and preppy sweaters. I carry my edge with me and, with it, my own brand of femininity. Best of all, I consult no one but my own eyes. I don't ask permission. I don't seek what's in fashion. I've finally found who Liz is and there's nothing easier in the world to be.