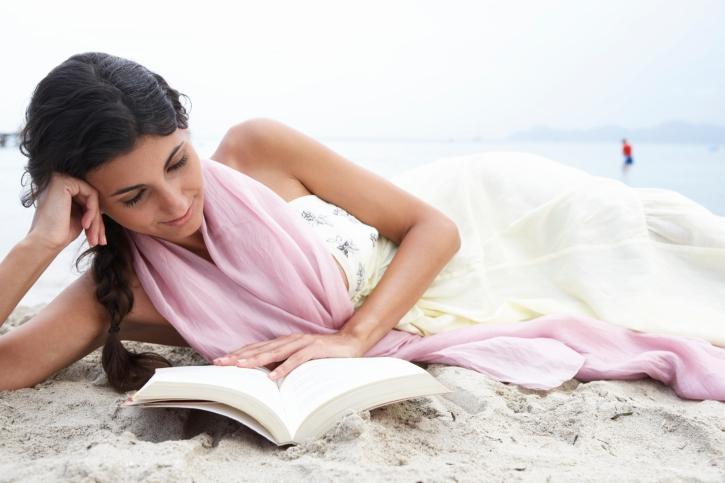 I'm always a little baffled when I hear people say, "I don't like to read." To me, it's on par with saying "I don't like music," or "I just don't care for food."
It's as if these non-readers believe all literary subgenres and nuances can be categorized under the blanket generalization of "books," when in reality, novels and stories serve up a vastly arrayed platter of flavors to suit many different palettes. 
I, for example, love me some fantastical stories rooted in modern-day realities. Writers of the Lost Generation? I swoon over that shit. And OK, I do love to read about vampires and Harry Potter. Crime and mystery? Love and friendship? Dark tales of the privileged and exploited? Yes, yes, yes.
But let's be real: even the most voracious readers among us are often too busy to carve out time for a long afternoon with a good book, losing ourselves in a swirling pool of letters and language.
But hark! What's that in the distance? None other than our summertime savior, here to give us the perfect excuse—a day at the beach, a Saturday lounging by the pool—to breathe in the romance of a great tome.
If you're like me, you either know exactly what book you want to start with, or you are so overwhelmed by the possibilities that you can hardly start at all. So I'll let you in, dear Ravishers, on some of my favorite books* to fall in love with over the summer, and some others I'm hoping to fall hard for once June rolls around. Best yet, all are likely available at your local used book store.
1. Garden of Eden by Ernest Hemingway
Far and away my all time favorite summer book, ever. The book opens with a young, tan and utterly in love couple on their sun-bleached European honeymoon. Biking on the beach in matching sailor stripes and rolling in white linen, they begin to lose themselves in each other and the darker side of falling. An undercurrent of pulsating tension blurs the lines between the genders, reality and fantasy. It also creates a gap in the couple's happy, once complete world—an opening they try to fill with a dark-haired stranger who utters my favorite Hemingway quote of all time:
"Happiness in intelligent people is the rarest thing I know."
2. Running With Scissors by Augusten Burroughs
You know what they say about all therapists being a little insane? Well, this story takes that notion to the next level. Told through the eyes of a young Augusten Burroughs, this story is perfect for the self-indulgent neurotic inside all of us, harboring dreams just crazy enough to seem attainable. Kind of.
Burroughs' autobiographical book will not only make laugh out loud; it will legit make you reconsider what it means to be a sane and practical human being. How insane is it to take up residence at your mom's shrink's toppling house of uninhibited madness, and come of age in spite of it all? Is it truly crazy? You tell me.
3. The Girl With The Dragon Tattoo by Stieg Larsson
This is the ultimate summer, girl-power badass mystery novel. Obviously, the hype was huge a few years back. But summer is the perfect opportunity to sit back and decide for yourself whether the story lives up to it's reputation for criminal chaos and eerie thrills. I swear, some parts of the book were so grotesque that I had to keep reading; it's that good. The story follows a journalist and a hacker with a V for Vendetta sense of vengeance, drinking a shit ton of coffee and solving the murder of a lifetime.
4. Squirrel Seeks Chipmunk by David Sedaris
OK, back to the funny. Sedaris is great (I adore The Santaland Diaries on NPR every Christmas, and I'm reading Barrel Fever now), and if you haven't read anything by him, this is a perfectly hilarious, if not totally bizarre, place to start. The book may center around pot bellied pigs, cats, squirrels and a menagerie of other common creatures, but let me assure you, the stories are unmistakably human. Sedaris has this genius way of cutting down all the bullshit to get right to the heart of human delusion . . . and to come out the other side having shown you why there's realness in the ridiculous.
5. A Visit From The Goon Squad by Jennifer Egan
This book is an excellent showcase for Egan's Pulitzer Prize-winning abilities. The story doesn't follow any specific set of characters per say, but rather an interwoven group of people whose paths criss and cross over a circular stretch of time. Each chapter is told from a totally unique point of view. The way the characters intersect and the way the novel ends back at the beginning of the circle, but with all sorts of layers and holes filled in, mimics the motion of life as we know it. People, cities, places and ambitions come and go. But time is eternal, never-ending and a real goon.
6. The Great Gatsby by F. Scott Fitzgerald
We read it in high school, but let's be real: there's no way we could have truly, deeply known the elating joy and crushing suffering that the characters dealt with when we were 15 (which is why I'm re-reading it again this summer, post teen years, full on into the impending despair and jubilance of my 20s). We couldn't possibly fully recognize archetypes in a culture that can be toppled by greed and lust, or our place in it all. There's this penetrating desire to be loved at any cost that washes over the entire premise. This is America, and whether it's the turn of this century or the last, we're often willing to pay too much for the empty promise of glamor and prestige.
7. The Virgin Suicides by Jeffrey Eugenides
OK, I was a little late on the bandwagon with this one (only missed it by a decade) but it was worth the wait. The story isn't so much about how it ends, but more about the way the end comes about. A group of neighborhood boys becomes totally and irrevocably infatuated with all the things they don't know about the Lisbon girls. The haunting memories of the blonde-haired sisters haunt the boys into manhood as they piece together the story for the eager readers. The movie was eh in my opinion, but the book is totally worth your summer attention.
*Now, I realize a lot of these favorites have been turned into movies. As an avid movie watcher, let me tell you almost all of the movie adaptations are excellent as well. But come on. The movie just isn't the same without the already-instilled reverence for the story that comes from the imagination of the written word. Happy reading!
Lead image: ThinkStock
Hemingway image: Wikimedia Commons